The Edson Fire Department currently has one full time Fire Chief, a volunteer deputy and 36 other volunteer members who strive to protect our community should an emergency arise. Our members train weekly to maintain the highest safety standards possible. The Fire Department is responsible for the fire and rescue operations throughout the Town of Edson.
Flashing Green Lights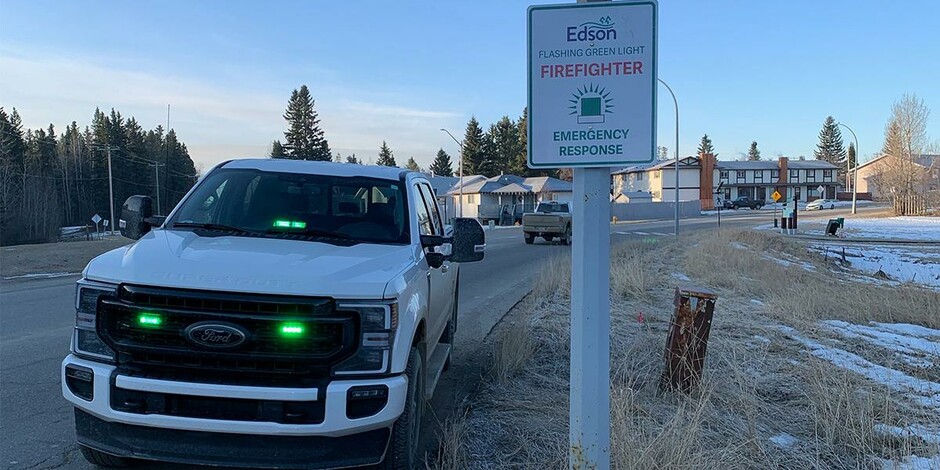 The Town of Edson has joined a growing list of communities that has passed a Flashing Green Light Bylaw. Council gave all three readings to Bylaw 2253, the Flashing Green Light Bylaw at their February 2, 2021 Council meeting.
The Traffic Safety Act allows for a municipal Council to pass a bylaw allowing for authorized firefighters to display a flashing green light while responding to an emergency. In Edson's case, the green lights would be used for our volunteer firefighters responding to the firehall. There are no changes to the fire apparatus, which utilize the standard red lights.
The purpose of the bylaw is to enhance public safety and awareness by identifying Edson Firefighters who are in the process of responding to the hall. The bylaw does not give any special privileges or powers to those responding volunteers, but gives other motorists and pedestrians notice that there is an emergency taking place and to yield if it is safe to do so.
Please watch for our responders utilizing these new lights and keep our roads safe for all users.
Recruitment
Visit our Membership Page for more details on how to join our team!
Now recruiting for new members!
Fire Permits
Fire Permits are now required in the Town of Edson.
Recreational Fire Pit Permits - one time fee of $25
Open Air Burning Permit - $50
Permit applications can be sent in to receipts@edson.ca, along with payment.