Edson Volunteer Fire Brigade
The Edson Volunteer Fire Brigade is the social committee of the Edson Fire Department. This is a member driven organization that raises funds and organizes events for the EFD members.
Funds raised by the Brigade have gone to items like gym equipment, training room comforts, optional equipment not covered by budget, hosting Firefit events, member scholarships, and more.
Some fundraisers held by the Brigade include Community Tent Rentals, Fire vs RCMP Charity Hockey Game (raising funds for the Sheepdog Lodge and food for the Food Bank), Fire Extinguisher Training, Medical Stand-By for Events, etc.
New for 2023
Deposits are now required to book the tent.
A non-refundable deposit of $250 is now required to hold a weekend. Payments can be made at the Edson Fire Hall (cash/cheque only), or via e-transfer.
A signed agreement and event insurance will also be required in 2023.
2023 bookings will start on January 9th on a first come first served basis. Please email at edsonfirebrigade@gmail.com to request bookings/info.
Tent Rental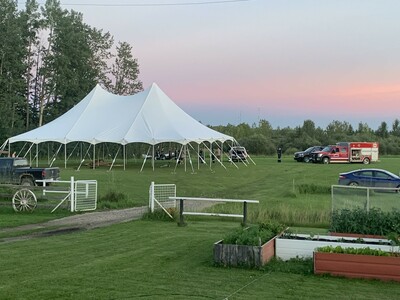 In late 2020, the Edson Fire Brigade purchased a new 40' x 60' tent for this program. The tent is all white with windowed walls. More pictures at the bottom of the page!
Sponsorship opportunities are available now. If you or your company are interested in sponsorship please contact Captain Steve Bethge.
One of the Brigades main source of fundraising is the rental of our community tent. The tent is great for events like outdoor weddings, reunions, and other get-togethers.
The tent measures 40' x 60' with two structural poles in the middle.
2023 rental price is $1000 which includes set-up and take-down for the weekend.
The ground must be fairly level for a proper set-up and the customer is responsible for doing a line locate prior to set-up for our safety. http://albertaonecall.com/
For bookings or information please contact the Edson Fire Brigade with the following information.
Name
Phone Number
Email Address
Address
Date requested
and/or any questions or comments
See the calendar below for current bookings and availability.
*Reservations may be limited based on crew availability.