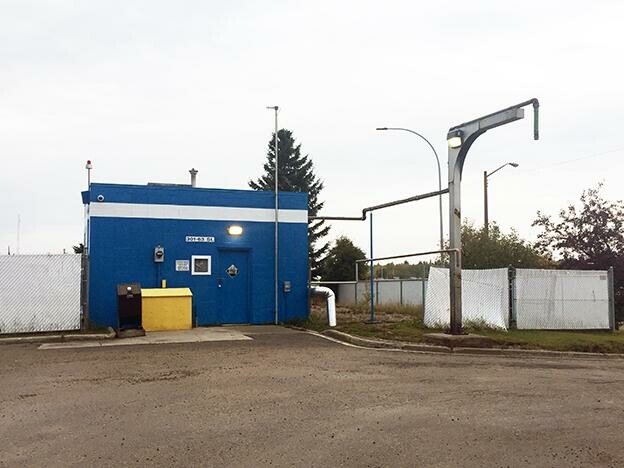 The Town of Edson Bulk Water Fill Station provides a potable water source for residents and businesses. The station is located at 63rd Street and 3rd Avenue (across from the cemetery)
Bulk Water System Changes
In an effort to increase our level of service to our haulers, the Town has upgraded our access terminals to Flowpoint`s cloud based software (formally Water Exchange™.)
The Town of Edson access terminal has been upgraded. Your old user code / PIN numbers (up to 3 digit) will NOT work with the new system (4 digit).
The cloud based system uses a unique username and password, and will be connected to a secure website. In order to use the system, the customer will have to use a credit card to add a balance to an account through our e-commerce partner Beanstream®. This will need to be set up prior to using the bulk water fill station. All transactions will be available on a personal secure dashboard. As well, a transaction log can be emailed automatically on a daily, weekly or monthly basis. Customers can manage their own accounts, adding truck User Codes (4 digits) and PIN numbers (4 digits). If the customer has no access to a computer, they will still be able to add a balance to the account in person or over the phone at the service counter located in the Public Works office.
For more information contact the Public Works office at 780-723-6461.
New Bulk Water System Instructions
To apply for an account;

a) Follow the link to the new system.
  
(Flowpoint Cloud Software)

b) Fill out the online account application, and be sure to include an email address.

c) Click on 'Submit'.


Shortly thereafter; customers will be contacted in person or by email about the new account. At this time a username and temporary password for the secure dashboard will be issued, as well as a comprehensive instruction booklet (in PDF) for setting up the station user codes and PIN numbers.

Commercial haulers may set up multiple station user codes and pins for each of the trucks and/or drivers through the secure dashboard. Multiple levels of authorization can also be set up.

Please note: The station user code and pin number are different than the dashboard access name and password.


Going forward, all accounts will be setup as pre-paid and no charge accounts will be allowed.
If you have any questions, please contact The Town of Edson Utilities Department at 780-723-6461