Current Projects
*This is a list of some of the major projects underway in the Town of Edson. It may not include all of the smaller projects or day to day/short term projects that are currently underway.
For more details on approved capital projects and funding, see our full budget details at www.edson.ca/budget.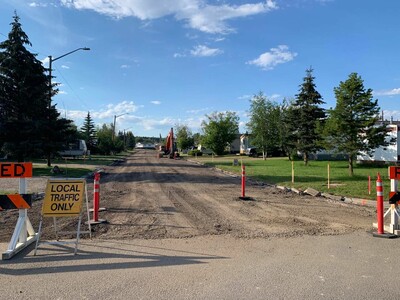 Road Reconstruction
Road Reconstruction work is scheduled in the following locations.
53rd Street – Concrete curbing to begin this week (Aug 18-19) and into next week.
62nd Street (Skyview) – *end of August/early September. More firm timeline as we get closer to construction.
This process requires excavating the entire street and rebuilding the structure. Please DO NOT PARK of the street during this time. Driveway access may also be limited during construction. Border Paving has been contracted to do this work and has committed to working with residents during this time to assist with getting items to the homes when necessary, discussing parking options, and to work with the homeowners and GFL to ensure garbage/compost is picked up as well. Hours of work will be approximately 7am to 7pm Monday to Saturday.
See the full resident letters and maps
Please ensure children and pets stay clear of the construction zone and drive with caution near the site and along the haul routes. Weather could delay construction start and completion dates.
Budget - Part of the $2,200,000 in funding allocated to the Infrastructure Rehab Program.
Timeline - Expected completion in early September
This is on top of regular road repair/patching work that is ongoing through the summer.
Patching and Repairs
Crews are expected to start patch work on 11th Avenue and 55th Street this week.

Project is to install a new water treatment plant (WTP) and public use facility at Vision Park.
In 2020, the Town undertook facility design at Vision Park to make use of an existing licensed water well that requires treatment to meet potable water quality standards. The Vision Park Water Treatment Plant design includes a process area and a separated area with washrooms and meeting space for use by the public within the park.
Budget - $2,274,660
Timeline - Project is in construction, due to be finished by October 31, 2022.
More details can be found in the agenda from the May 25th, 2021 Committee of the Whole Meeting and the June 1st, 2021 Council Meeting.

Upcoming Projects
Project includes upgrades on Wase Creek on 1st avenue between Highway 16 overpass and 48th Street to mitigate flooding and drainage issues.

Budget - 90% grant funded. More details to come.
Timeline - Design activities are started and a land agent is currently working on the file to secure rights of access for geotechnical investigations and future work plans.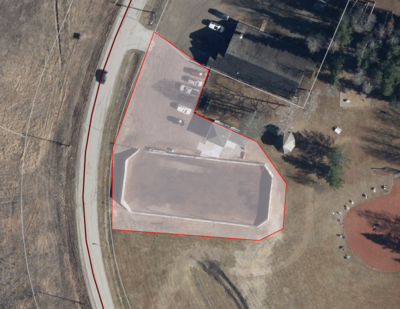 A new facility will replace the existing outdoor arena structure in Glenwood Park and provide year-round recreational opportunities for residents. The structure will have a cement base which will lower the staff resource implication in the winter as the arena will be much easier to flood. It may also allow earlier flooding of the ice surface, potentially leading to a longer winter skating season.
Considering that the facility will now provide year-round recreational opportunities, such as basketball and pickle ball in the summer months, greater usage of the park is anticipated.
Budget - $435,000 (75% grant funded)

Timeline - Project is expected to be complete by January 2023. Tender has been awarded and demolition of the old rink is expected to start in the next couple of weeks. Once the construction fencing is up, there will not be access to the washroom facilities in Glenwood Park, the parking lot, and the outdoor arena until the project is complete. Other areas of the park outside the fenced area may be used throughout construction.
More details can be found in the agenda from the March 15th, 2022 Council Meeting.
Pedestrian crossing lights are planned to be installed at 4th Avenue and 46th Street. This has been identified as an area of high pedestrian traffic, especially for students during the lunch hour. As such, Council has set this as a priority and is working towards having the lights installed.
Budget - Approximately $150,000. Negotiations ongoing for cost sharing.

Timeline - Dependent on Alberta Transportation and supply timelines. Budgeted for 2022.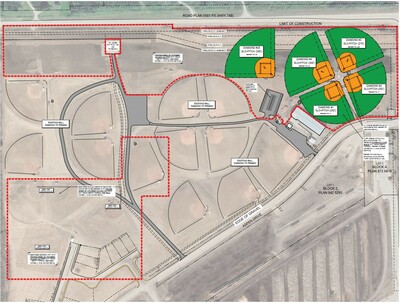 Original tender came in above budget, project is currently out for tender with a new scope.
Budget - $1,922,240
Timeline - Tender is out and work anticipated to start this fall or early spring.
More details can be found in the agenda from the June 21st, 2022 Council Meeting.
Long Term Projects
The Town of Edson and Yellowhead County are embarking on a historic joint project.
Following many years of public input and facility studies, our communities have come together to start work on a new Multi-Use Recreational Facility.
After initial plans for the Hillendale site came in over budget, the project team was tasked with looking at alternatives which can achieve similar results, but within the approved $70 million budget.
Work is now underway on a condition assessment for major building components and complete a conceptual design and cost estimate at the current site of the Edson and District Leisure Centre. The updated plan is expected to be complete by December 2022.
More details can be found at www.edson.ca/facility.