Current Projects
*This is a list of some of the major projects underway in the Town of Edson. It may not include all of the smaller projects or day to day/short term projects that are currently underway.
For more details on approved capital projects and funding, see our full budget details at www.edson.ca/budget.
Road Reconstruction
Updated will be posted as projects are announced for 2023
Repairs have been completed for the season.
The project will include rebuilding 5 diamonds at the northeast end of Vision Park, which includes:
Landscaping to improve drainage in the lower areas of Vision Park.
Construction of two 300-foot diamonds suitable for Slo-Pitch and Baseball.
Rebuilding of three diamonds to level the landscape, improve drainage, and upgrade fencing.
Once this work is complete, Vision Park will have 16 operational diamonds, which more than accommodates the needs of Edson Mixed Slo-Pitch and Edson Minor Ball. A park of this size will also attract ball tournaments to the community.
Budget - $1,922,240
Timeline - Work started on September 19, 2022 and is anticipated to continue until August 2023. Grass seed takes a minimum of two full years to grow and establish itself so we anticipate the new ball diamonds will not be operational until the spring 2025.
Background
In 2019 Trans Mountain Pipeline started work installing their new pipeline directly through Vision Park.
Eight of our softball diamonds at Vision Park were either fully or partially located on the Trans Mountain right of away. The work done by Trans Mountain Pipeline resulted in the removal of the playground, 72 full-grown spruce and poplar trees, six ball diamonds, and partially impacted two other diamonds.
Trans Mountain must return all sites on their right of way to their original condition after the excavation and construction, however, Trans Mountain and the Town of Edson jointly identified that it might be in the Town's best interest to rebuild the affected ball diamonds and other structures rather than Trans Mountain. The Town of Edson rebuilding the diamonds (with financial contributions from Trans Mountain) would ensure the Town of Edson could rebuild them in alignment with the new Vision Park Revitalization Plan.
The Town of Edson Parks Department worked with EDS Group to build a revitalization plan for Vision Park in June 2020. A draft plan was presented to Council on October 27, 2020. The plan included a phased approach, with phase one being rebuilding the diamonds removed by Trans Mountain. Unfortunately, tenders came in far over budget and the plan was scaled back in consultation with user groups.
Project is to install a new water treatment plant (WTP) and public use facility at Vision Park.
In 2020, the Town undertook facility design at Vision Park to make use of an existing licensed water well that requires treatment to meet potable water quality standards. The Vision Park Water Treatment Plant design includes a process area and a separated area with washrooms and meeting space for use by the public within the park.
Budget - $2,274,660
More details can be found in the agenda from the May 25th, 2021 Committee of the Whole Meeting and the June 1st, 2021 Council Meeting.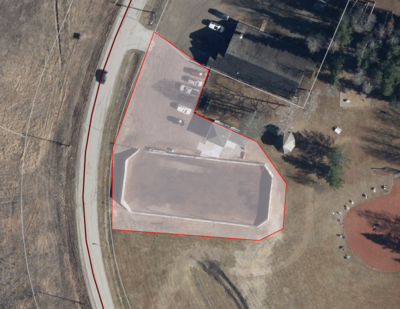 A new facility will replace the existing outdoor arena structure in Glenwood Park and provide year-round recreational opportunities for residents. The structure will have a cement base which will lower the staff resource implication in the winter as the arena will be much easier to flood. It may also allow earlier flooding of the ice surface, potentially leading to a longer winter skating season.
Considering that the facility will now provide year-round recreational opportunities, such as basketball and pickle ball in the summer months, greater usage of the park is anticipated.
Budget - $435,000 (75% grant funded)

Timeline - Project is expected to be complete in early 2023. The concrete pad was poured on October 28th. There will not be access to the washroom facilities in Glenwood Park, the parking lot, and the outdoor arena until the project is complete. Other areas of the park outside the fenced area may be used throughout construction. Boards were delayed and expected to be shipped in mid February.
More details can be found in the agenda from the March 15th, 2022 Council Meeting.
Upcoming Projects
Project includes upgrades on Wase Creek on 1st avenue between Highway 16 overpass and 48th Street to mitigate flooding and drainage issues.

Budget - 90% grant funded. More details to come.
Timeline - Design activities are started and a land agent is currently working on the file to secure rights of access for geotechnical investigations and future work plans.
Pedestrian crossing lights are planned to be installed at 4th Avenue and 46th Street. This has been identified as an area of high pedestrian traffic, especially for students during the lunch hour. As such, Council has set this as a priority and is working towards having the lights installed.
Budget - Approximately $150,000. Negotiations ongoing for cost sharing.

Timeline - Dependent on Alberta Transportation and supply timelines. Budgeted for 2022.
Long Term Projects
The Town of Edson and Yellowhead County are embarking on a historic joint project.
Following many years of public input and facility studies, our communities have come together to start work on a new Multi-Use Recreational Facility.
After initial plans for the Hillendale site came in over budget, the project team was tasked with looking at alternatives which can achieve similar results, but within the approved $70 million budget.
Work is now underway on a condition assessment for major building components and complete a conceptual design and cost estimate at the current site of the Edson and District Leisure Centre. The updated plan is expected to be complete by December 2022.
More details can be found at www.edson.ca/facility.