The Town of Edson's Family and Community Support Services (FCSS) and Community Development Team aim to connect residents and area visitors with the social, recreation and art resources within the community and regional area. As a result of this, we are working hard to bring you an annually updated Community Services Directory.
Online Registration/ActiveNet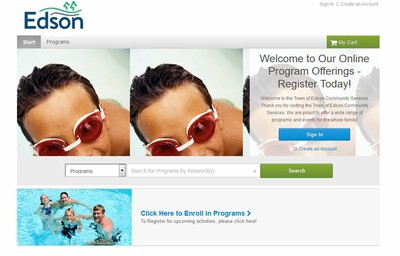 Register for all Recreation, Arts & Culture and Family & Community Support Services programs here. Programs found here include Active Living, FCSS, Youth Interagency, arts and special interest courses as well as swimming lessons. For more information about swimming lessons and public swim, please call 780-723-POOL (7665).
Program Information & Cancellation Policy
Program Information
For information on programs and courses offered by Community Services, please contact Edson & District Leisure Centre Guest Services at (780)723-7665 (POOL). To register online, go to the Home Page of the Town of Edson website and click on Program Registration Activenet. 
As our programs are run on a cost-recoverable basis, the minimum number of people must be registered and paid before the program can run. Be sure to register prior to the registration deadline to avoid disappointment! Registrations will be taken on a first come, first serve, paid basis. There will be no phone in registrations. 
Cancellation Policy
Courses or programs may be cancelled at the Town's discretion, and complete refunds will be provided to all registrants. Registrants will be contacted should the Town cancel a course or program and/or if there are changes to dates or location. 
If registrants withdraw from a course or program prior to the registration deadline, a refund will be issued for the amount of the course/program minus the online transaction fee.
If registrants withdraw from a course or program after the registration deadline has passed, a refund will be issued for the amount of the course/program minus a $10 administration fee plus the online transaction fee.
This refund will be issued in the form of a credit to the registrant's Activenet account.
Please note:
A $25 service charge will be levied on all NSF cheques.
Any personal information provided to the Town of Edson is being collected under the authority of Section 32(c) of the Freedom of Information and Protection of Privacy Act and will be used only in accordance with that act.
Quicklinks
What is Community Development?
Howard Lawrence paid a visit to our town on October 10, 2018 for a presentation regarding the Abundant Community initiative and reconnecting within our neighbourhoods. Stories were shared, both successes and failures, putting the work of connecting with neighbours into perspective.  It can seem daunting, or like it won't make a big difference. This however is a myth. Reconnecting can be done through something as simple as a coffee cart out on the sidewalk with an open invitation to neighbours or pulling your BBQ out onto the driveway and inviting the neighbours over for a hotdog and a 30 minute visit. There doesn't need to be extensive planning or even the feeling of invading personal space. Meet up at the park nearby, outside on the lawn or in the backyard. 
Check out our Block Party program for ideas to get connecting. 
Our Philosophy
Sharing - Caring - Learning - Growing
The assumption that one's family is the most important influence in shaping an individual is the basis of the Family Centre's philosophy.
Love and support in one's family contributes greatly to each person's ability to function positively in society while reaching his/her potential.
A sense of belonging is crucial in achieving a vibrant, healthy community.
Community Development Team
Tanya Byers
Senior Manager, Community Services
Phone: 780-723-4403 or 780-725-1200

---
Lexi Abbott
Community Development Coordinator, Recreation 
Diana Inscho
Community Development Coordinator, Arts & Culture 
Emma Fairbank
Community Development Coordinator, FCSS 
Marsha Shack
Community Development Coordinator, FCSS 
Civic Centre Business Hours:
Monday to Friday
8:00 AM-4:00 pm
Phone:
Community Services/Community Development Office: 780-723-4403
Location:
Civic Centre
605-50 Street 
Edson, AB T7E 1T7