Canada Day 2023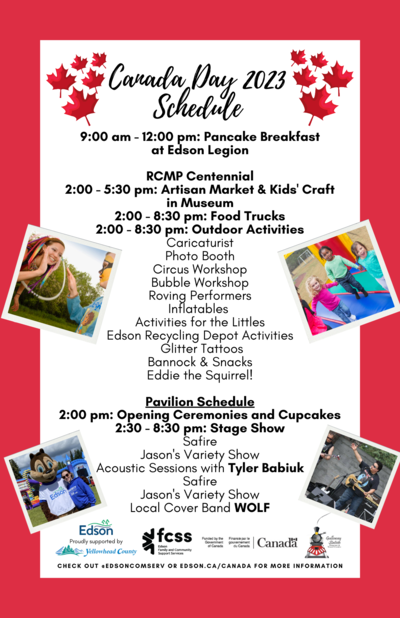 Here's the schedule for Canada Day.
Please note that, like all live outdoor events, schedules can change. We will do our best to stick to it!
We have some great food trucks joining us including The Fresh Vine, Country Cooks, Jennie's Ice Cream, and Oh Fudge!.
The outdoor activities and entertainment are free!
In the afternoon the Girl Guides, the Pentecostal and Baptist Churches will be providing some free snacks and water and we have a special guest, Elder Jackie Whitford, who will be providing us with fresh bannock during the day! 
Take part in some games, inflatables, family entertainment on and off stage, photo booth, have your caricature drawn, check out the artisan market!
Stage entertainment will include two great artists, Safire and Jason, from Indigo Circus. Also on stage, we have some awesome local musicians waiting to entertain you. Our very own Tyler Babiuk and then Hinton's WOLF - an awesome cover band that will have you singing along and dancing. 
We have postponed the fireworks until further notice. 
Canada Day 2021 Video Special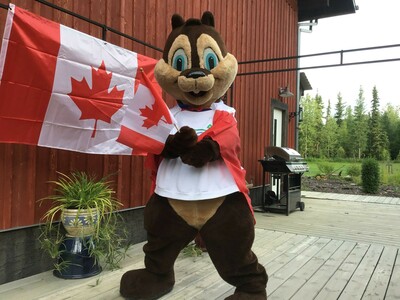 Here is our 2021 Canada Day Video Special featuring guests Tyler Babiuk, Drew Gregory, Edson Pipes & Drums, Sarah Bowman, and Eddie the Squirrel. 
Virtual Canada Day 2020
Due to COVID restrictions on public gatherings and the Town of Edson budget cutbacks in response to the pandemic, we took Canada Day in a new direction in 2020.
Canada Day Fireworks 2019