** UPDATE **
We have changed locations for the Canada Day Celebrations 2022 from RCMP Centennial Park to EDSON & DISTRICT LEISURE CENTRE in both arenas.
All events will still be taking place throughout the day as scheduled but will be indoors instead of out in the rain.
Fireworks will still be taking place in the usual location (rain or shine) with best viewing location being RCMP Centennial Park.
We look forward to seeing everyone there!
Canada Day 2022
Canada Day is BACK!  Join us at EDSON AND DISTRICT LEISURE CENTRE beginning at 2:00pm and ending with fireworks at 11:15pm best seen from RCMP CENTENNIAL PARK. Here's the lineup for the day...
9:00 am: Legion Pancake Breakfast at Edson Legion
2:00 pm: Opening Ceremonies and cupcakes
2:00 - 6:30 pm: Artisan Market
2:00 - 8:00 pm: Inflatables and Games
2:30 - 6:15 pm: Family Entertainment on Stage: The Great Balanzo, Trixtan Entertainment, Kehewin Native Dance Theatre
2:00 - 6:00 pm: Activities: Caricaturist, Circus Workshop, Hula Hoop & Bubble Workshop, Roving Performers, Inflatables & Activities for the Littles, Edson Recycling Depot Activities, Face Painting, Henna Tattoos
2:00 - 11:00 pm: Food Trucks
7:00 - 11:00 pm: Beer Gardens hosted by Edson Tumblers Gymnastics
8:30 - 11:00 pm: Outdoor Concert: Nipisiy Singers followed by Award-Winning Alberta Country Music Artist Drew Gregory
11:15 pm: Fireworks
Canada Day 2021 Video Special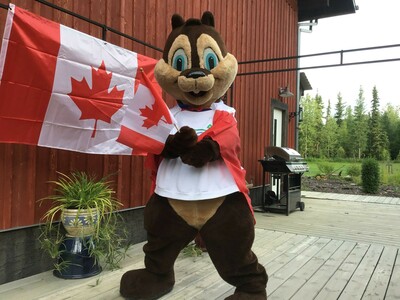 Here is our 2021 Canada Day Video Special featuring guests Tyler Babiuk, Drew Gregory, Edson Pipes & Drums, Sarah Bowman, and Eddie the Squirrel. 
Virtual Canada Day 2020
Due to COVID restrictions on public gatherings and the Town of Edson budget cutbacks in response to the pandemic, we took Canada Day in a new direction in 2020.
Canada Day Fireworks 2019