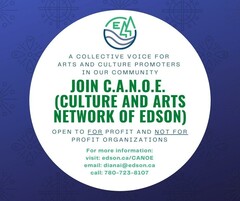 We are inviting local organizations and businesses who provide arts and culture opportunities in Edson and the surrounding area to join the Culture and Arts Network of Edson (CANOE). This initiative was spearheaded by the community several years ago as a response to the need for a collective.  As a municipality, we are hoping we can carry the momentum forward long into the future.
What is it?
An informal, member-driven group which will be facilitated by the Town of Edson Community Development Coordinator, Diana Inscho, to create a collective voice and collaboration opportunities for arts and culture providers and supporters in our community. 
At present, we are working on a grant to help engage and build community through art installations and archival projects.  We are also working on regular social gatherings (as permitted) to create networking opportunities and 'ARTpreneurship'. Another exciting project in the works is a Renaissance Faire. Please stay tuned for more information.
What are the benefits for members?
You will be kept up to date on local & provincial initiatives and grant opportunities.
Have the opportunity to connect with like minded people and inspire each other.
Find support to move initiatives forward.
Provide opportunities to solve challenges your organization faces.
Share ideas on attraction and retention of volunteers and staff.
Work together to recognize gaps or issues pertaining to our community and find creative ways to address them.
Work together to build events and programming to promote arts & culture in our area.
Promotion of your organization. As a member, you will have the opportunity to be listed in the Directory below where the community can access your up-to-date information.
Network members will be kept informed and be able to refer people to one another's events and programs.
Being at the table will help you build partnerships and identify opportunities to share resources.
Together, we build a stronger, healthier and more vibrant community.
There is no cost to join CANOE! 
Who can join?
Not for profit AND for profit organizations/businesses
What is the commitment?
As much or as little as you want; we will have meetings as necessary (less than once a month) that are optional to attend. This may change based on need and engagement. 
Meeting format will be based on feedback and suggestions from our members, but may include things like: round table updates, guest speakers, training opportunities, community concerns, etc.
We recognize that your schedule may not allow for your attendance at meetings, but whether you attend or not, you will still be included on our email list to stay in the loop and be listed in the directory on our website. 
Ready to sign up? 
Want to find out more? 
Give Diana a call at 780-723-8107 or email at dianai@edson.ca