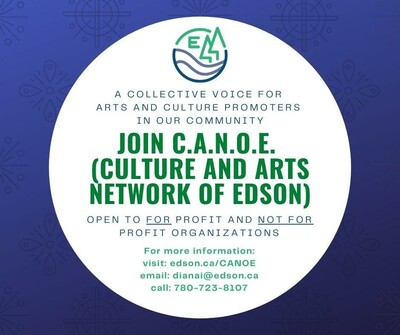 We are inviting local organizations and businesses who provide arts and culture opportunities in Edson and the surrounding area to join the Culture and Arts Network of Edson (CANOE). This initiative was spearheaded by the community several years ago as a response to the need for a collective.  As a municipality, we are hoping we can carry the momentum forward long into the future.
What is it?
An informal, member-driven group which will be facilitated by the Town of Edson Community Development Coordinator, Diana Inscho, to create a collective voice and collaboration opportunities for arts and culture providers and supporters in our community. 
At present, we are working on a grant to help engage and build community through art installations and archival projects.  We are also working on regular social gatherings (as permitted) to create networking opportunities and 'ARTpreneurship'. Another exciting project in the works is a Renaissance Faire. Please stay tuned for more information.
What are the benefits for members?
You will be kept up to date on local & provincial initiatives and grant opportunities.
Have the opportunity to connect with like minded people and inspire each other.
Find support to move initiatives forward.
Provide opportunities to solve challenges your organization faces.
Share ideas on attraction and retention of volunteers and staff.
Work together to recognize gaps or issues pertaining to our community and find creative ways to address them.
Work together to build events and programming to promote arts & culture in our area.
Promotion of your organization. As a member, you will have the opportunity to be listed in the Directory below where the community can access your up-to-date information.
Network members will be kept informed and be able to refer people to one another's events and programs.
Being at the table will help you build partnerships and identify opportunities to share resources.
Together, we build a stronger, healthier and more vibrant community.
There is no cost to join CANOE! 
Who can join?
Not for profit AND for profit organizations/businesses
What is the commitment?
As much or as little as you want; we will have meetings as necessary (less than once a month) that are optional to attend. This may change based on need and engagement. 
Meeting format will be based on feedback and suggestions from our members, but may include things like: round table updates, guest speakers, training opportunities, community concerns, etc.
We recognize that your schedule may not allow for your attendance at meetings, but whether you attend or not, you will still be included on our email list to stay in the loop and be listed in the directory on our website. 
Ready to sign up? 
Want to find out more? 
Give Diana a call at 780-723-8107 or email at dianai@edson.ca 
CANOE Directory
For Profit & Not For Profit Organizations.
Last updated August 11, 2022. 
Arts Centre for Edson Society
ACES' mandate is to advocate for the arts community of Edson and area, and for the future development of a new performing arts centre in Edson.
Contact:
Shari McDowell, President
780-712-8263
Website
Twitter
Facebook
Mailing Address:
1006 62A Street
Edson, AB T7E 1Y8
Edson and District Historical Society (EDHS)
The EDHS is the governing body of the Galloway Station Museum & Travel Centre. The Galloway has hosted (and partnered with) many artists and organizations throughout the years, as well as created and presented many cultural and artist events. The gift shop offers a myriad of beautiful pieces by talented locals. We would be happy to support CANOE and art and artists!
Contact:
Shari McDowell, Manager
780-723-7437
Email Shari
Email Museum
Website
Facebook
Mailing Address:
223 - 55th Street
Edson, AB T7E 1L5
Edson and District Public Library
The Library serves as a research and information center. We are a communication hub for the community and community groups. We host art and cultural exhibits. We also provide programming based on arts and culture to all age groups.  Click here after Tuesday, December 14th, 2021 to watch the Edson & District Public Library's Spotlight Video. It's really fun!
Contact:
Michael Baird, Library Manager
780-723-6691
Email Michael
Website
Instagram
Twitter
Facebook
Pinterest
Mailing Address:
4726 8th Ave
Edson, AB T7E 1E3
Edson Dance Academy
Edson Recreational Dance offers dance lessons to students of all ages, from 3 years old to adult. To watch their Spotlight Video, click HERE. 
Contact:
Amy Wesolowsky, Owner
780-722-3154
Email
Instagram
Facebook
Mailing Address:
5130 13 Ave
Edson, AB T7E 1H5
Edson Taekwondo
Edson Taekwondo offers group and individual training, seminars.
Contact:
Jamie Hobbins-owner/instructor
780-728-1071
Email
Mailing Address:
7 5429 10 Avenue
Edson, AB T7E 1K2
The Heart of Edson Gallery and Studio
The Heart of Edson Gallery and Studio is a project being undertaken by Jayne and Julian Buchwald. The notion is to provide main street Edson with a vibrant venue for local artists to share their work with the world. Edson has a very active arts community comprised of many talented individuals and a number of groups. Our hope is to help nurture the arts community and fan the flames of creativity in Edson. A 'gallery' classically caters to the visual arts but we would like to expand on that to include what we are calling the 'studio'. The Gallery is a formal space for local artists to display their work. By 'formal' we do not intend for our visitors to wear tuxedos and ball gowns. Simply explained, this space is designed to allow the visitor to explore art in a viewer friendly atmosphere. It will be arranged and illuminated in a way to reduce distractions letting the viewer the best environment to appreciate the work. It is closely linked to a retail area which will feature a slightly less formal display of local artisans work. The Studio is very much a work in progress that is evolving as we receive input from our artists and visitors. At this time, there are two divisions of the Studio: A meeting place that is available to groups and/or individuals to host classes, meetings, workshops and the like. There are tables and chairs to accommodate 25 to 50 attendees. At the present time, there is access to a projection screen, a digital projector and a simple sound system. Users will have to supply their own video/audio source (laptop or similar). We will also be hosting a variety of musical events in this space. Essentially our version of 'house concerts'. Check out the EVENTS page for a list of events from classes to workshops to concerts. A photography studio that is also available to groups and/or individuals to make photographs. It will be available to rent with or without equipment (backdrops and studio lighting and other gear) and will be a space amenable to doing portrait work and possibly product photography. Are you planning a session but worried about the weather making outdoor work impossible? Would you like to try some portrait work but don't want to invest in advanced lighting gear? This might be the space for you.
Contact: Owner/Photographer- Julian Buchwald
(587) 466-0193
Email
Facebook Page
Instagram
Website
Address: 303 – 50 Street, Edson, AB
Holy Redeemer Drama Department
The Holy Redeemer Drama Department is a world-class theatre-arts program within Holy Redeemer Catholic Jr/Sr High School. This program offers classes to students in grades 7 to 12 and includes Drama 7, 8, 9, as well as Drama 10-20-30, Advanced Acting 15-25-35, and Technical Theatre 15-25-35. The HRH Drama Department also produces a major theatrical production each December that has become a major staple in the fine arts community. In the spring, the Program also produces three one-act plays that are presented at the school's Dessert Theatre. These one-act plays also compete at the Zone Drama Festival where the school has won a combined total of 16 Best Production Awards.
Contact:
Peter Taylor, Drama Teacher
780-723-7437
Email Peter
Website
Twitter
Instagram
Facebook
Mailing Address:
4912 12th Ave
Edson, AB T7E 1S7
Jordan Conarroe Originals
I'm Jordan and I am the owner of Jordan Conarroe Originals! I am a portrait and wedding photographer based out of Edson, and love being able to bring the art of photography to my community. I was born and raised in the Edson area, I love sharing the gorgeous landscape of our county to Edson residents. My style is very candid, I focus on capturing the little moments of joy between your family or significant other. I'm a lover of sunsets and vibrant colors, which you will notice in my work! All my life, I always had a love for creating. I love photography because I am able to document personal memories for each of the people in front of my camera, I'm so humbled to be able to capture these memories for a living. I book local sessions as well as all over Canada!
Contact: Jordan Conarroe, Owner
RCL Joe Wynne Branch 51
We are social gathering place that offers pool, darts, shuffleboard, euchre and crib. We also hold meat draws on Wednesday & Saturday. Lunch is available Tuesday - Saturday at our canteen. We have a hall that will seat up to 400 people (depending on the type of event) with a full kitchen that is available of rent to the community.
Contact:
Wendy Williams, President
780-723-6455
Email Wendy
Facebook
Mailing Address:
5016 5th Avenue
Edson, AB T7E 1T4
Sandamara Studio
Sandamara Studio is new to Edson and will be looking at offering Tai Chi, meditation, personal development workshops and life coaching.
Contact:
Sandra Cale,Owner/Instructor
250-859-5382
Mailing Address:
4722 6th Avenue
Edson, AB  7E 1E1
More information to be added as established
Srvent Freelance
Spencer Richard (Srvent) specializes in videography and music production. He works out of his home-based studio in Edson, AB. As a freelancing artist, he works with others in the community in their endeavors in a variety of ways; from making music videos to advertisements, producing music, podcasts, filming event coverage, and more--both for individuals and commercial clients.
Ultimately, his business is an offshoot of what he does as an artist under the name Srvent. He specializes in creating engaging narratives, evocative visuals, and unique sound design. He also mentors other artists on occasion. Lastly, besides his own music and videos that are made in this community, he hosts his own podcast called 'Creative InSanity' that features hyper-creative individuals from all around the world, with occasional local guests. It's intention is to be fuel for creative people, to inspire them to stay in the zone, to stay sane, and grow into the artists they're meant to be. (//www.srvent.com/podcast)
Three Tree Photography
Bradley is a generalist photographer, who loves photographing families, couples, weddings, and other events. She is always open to hearing the creative ideas people have for their sessions.  You can watch her Spotlight video here after December 28th, 2021.
Contact:
Bradley Wari
780-725-3449
Meagan Turenne
Meagan is a local individual artist.
Contact:
Meagan Turenne
780-728-2273
Email Meagan
Mailing Address:
52526 Range Road 174
Yellowhead County, AB  T7E 3E6
The Resilience Project: Mural, Documentary and Commemorative Book Grant
The Culture and Arts Network of Edson (CANOE) is an arts and culture interagency made up of several advocates for Arts and Culture in Edson including artists, musicians, photographers, business owners, arts and culture organizations, and facilitated by the Arts and Culture Community Development Coordinator at the Town of Edson. The Edson and District Historical Society, also a member of CANOE, is the funding partner for the grant.
As one of our initiatives, we pooled our talents, creativity and resources, applied for and received a Federal grant from Heritage Canada and Commemorate Canada in June of this year. The grant is designed to help build a sense of pride and belonging to Canada and support the revival of local economies through in person events and provide access to celebrations across Canada to appreciate Canada's cultural, linguistic, ethnic, and geographic diversity.
We titled our initiative 'The Resilience Project", a three-part project that would include 5 murals in our downtown core, a documentary and a commemorative book including several subject residents of our area who exemplify resilience especially through the pandemic.  These last two projects will be celebrated with a gala and a red-carpet premiere in the spring.
Emails, advertisements via Facebook, our website and posters were broadcast to notify the community about the mural opportunity. 10 businesses and organizations emailed back to express their interest in the project. The locations were graded on a point system based on proximity to Edson's downtown core, visibility to traffic and pedestrians, improvement factor (how dramatic a change a mural would make).
The selected 'canvases' are:
Switzer's Drugs (north wall)
Edson Legion (south wall)
Henry Family Vision Centre (west wall)
Timberjack Home Hardware (south wall)
The Heart of Edson Gallery and Studio (east wall)
The muralists are given artistic license to create and share proposals with the building and business owners which are approved of by the building/business owner and the selection committee.
Where possible, the murals will be completed by early autumn.
CANOE welcomes suggestions for the resiliency documentary and commemorative book candidates. Please feel free to share with Diana at dianai@edson.ca if you know of anyone who lives in the Edson area and:
has a history of positive contribution to the community and/or it's residents
has been Impacted by the pandemic or changes within the community
is a Potential future contributor to the community and/or it's residents
was Impacted by historical events and has shown resilience in the face of adversity
We would appreciate it if you could supply contact information for the candidate and pre-qualify that they would be interested in the project.
More information can be found at edson.ca/CANOE.