Edson's Haunted Halloween House Decorating Contest
Registration
Registration opens October 1, 2023 for the 4th Annual House Decorating Contest! Register by filling out the survey below.
Registration closes October 25th at 7 pm
Map Release- On the registration survey, you will be asked if you agree to your address being shared publicly on a map for residents to views entries and on the survey for voting.
Photo Submission deadline October 31st at 7 pm.
Max 3 photos- please include high quality photos
All photos must emailed to sarahm@edson.ca if photos are not submitted by this time you will not be eligible for live voting.
Voting
All voting will be done through an online survey. No judging will be done this year and we will leave voting up to residents!
Best in Neighbourhood voting begins October 31st @ 11:59pm and closes November 1st at 8 pm. Winners from each neighbourhood will move onto the Best in Edson Category.
Voting survey for each neighbourhood will be shared through our Town do Edson Programs and Events Facebook page, Edson.ca/neighbour and also through each neighbourhood League Facebook page. Watch these pages for the survey link!
Best in Edson voting begins November 1st @ 11:59 pm and closes November 2nd @ 8 pm.
Voting survey will be shared through our Town do Edson Programs and Events Facebook page, Edson.ca/neighbour and also through each neighbourhood League Facebook page. Watch these pages for the survey link!
Winner will be announced November 2nd @ 9pm.
Prizes
Each participant will receive a delivered Halloween swag bag!
Each Best in Neighbourhood winner will receive $50 in Edson Bucks!
Winner of Best in Edson will receive $100 in Edson Bucks AND a community Block Party hosted by Edson FCSS worth $500!

* Party date and location will be dependent on winning neighbourhood. Party will be hosted in the month of November.*
Contact Sarah at 780-712-3500 (call or text) or sarahm@edson.ca with any questions.
Please scroll down this page to find your neighbourhood!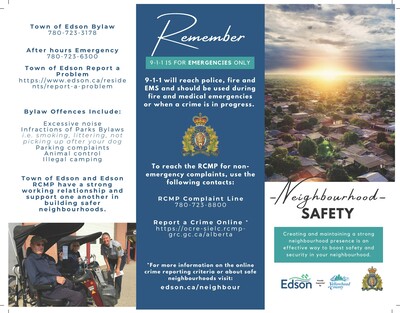 In partnership by the Town of Edson Protective Services, Town of Edson FCSS & RCMP
Alberta RCMP launches online crime reporting across the province
Edmonton – Today, the Alberta RCMP officially rolls out a new, province-wide online crime reporting initiative. The online crime reporting tool allows Albertans to report select property crimes online. This project has been initiated to ensure the public is able to report select crime types in whatever way is most convenient or accessible to them. A goal for the Alberta RCMP is to make sure all crime is reported, no matter how small. This provides the most accurate crime data and allows our resources to be deployed appropriately in the areas that need it most.
Citizens will be able to report the following crimes online:
Damage/mischief to property under $5,000
Theft of bicycle under $5,000
Theft under $5,000
Theft from vehicle under $5,000
Lost property
Incidents must also satisfy the following conditions to be reported online:
No witnesses or suspects
Item(s) lost or stolen must cost less than $5,000
Vandalized property will cost less than $5,000 to repair
There are no items involving personal identity, firearms, licence plates or decals
All crimes reported online will be followed up with a phone call from a police officer in "K" Division's Call Back Unit (CBU) within five business days. The CBU was created to ensure all non-urgent calls for service are investigated efficiently and effectively. "The Alberta RCMP is always looking for new opportunities to modernize and streamline our services for all Albertans – no matter where they live in the province," says Deputy Commissioner Curtis Zablocki, Commanding Officer of Alberta RCMP. "Online crime reporting is accessible and convenient, and will help us capture more intelligence when it comes to property crime occurring in all of the communities we serve. Offering a contactless service is also vital in these times when physical distancing is so important."
This initiative has already been piloted in Airdrie, Banff, Cold Lake, Grande Prairie, Red Deer and Strathcona County from June 1, 2020 to present. The link to report a crime online can be found here: https://ocre-sielc.rcmp-grc.gc.ca/alberta 
We encourage the public to report crime online, when possible. Reporting less serious crime online helps emergency call takers and frontline members focus their time on high-priority calls. We take all reports of crime seriously and crime reported online will be treated the same as crime reported in any other way.
Neighbourhood League Facebook groups can consist of more than one neighbourhood as long as it makes geographical sense for that area. For example, Westgrove and Westhaven have a shared neighbourhood group, while Hillendale has their own.
If you are interested in becoming a Neighbourhood League Champion, here is an idea of what your role means:
For your neighbourhood, yourself alone or with one other neighbour (or as a group), create a Facebook group. Ensure that you are all moderators and have the same level of permissions. We can help with that if you're unsure.
Make sure you set clear rules and guidelines for your neighbourhood such as respect and regard for others. How to write group rules (with examples).
You can add entry questions for people who request to be part of the group, such as "What is your address?" to ensure that they actually live in your neighbourhood. 
We will ask for your help in inviting neighbours to the group, we will take care of creating flyers/door hangers, with your assistance distributing them to the members of your neighbourhood.
When restrictions for COVID-19 are lifted, we will plan a celebration within your neighbourhood and would ask for your help alerting your neighbours.
We will organize the bulk of the celebration and it will be funded through FCSS and Community Services.
Moving forward, you can pass the torch to another neighbour or continue on as the champion for your neighbourhood, promoting activities happening in your neighbourhood like garage sales, Block Parties and potlucks.
There might be other roles you identify as the NLC, but that will be totally up to you!
Neighbourhoods that are not claimed or where no Neighbourhood League Champion has come forward, a group will be created by our team and we will invite neighbours! Once the group gets rolling we will request that a neighbour takes on the role of the group moderator and let it go from there. 
Our hope is that community members take this opportunity to build a safer and more connected community through the use of Neighbourhood Leagues.
We need more neighbouring! There are several benefits of neighbouring. A few of the key benefits:
Health and Wellness: More and better relationships improve health.  The neighbouring relationship is often overlooked as a unique and potent source of personal well-being.
Mental Health: Having access to consistent opportunities to build meaningful relationships opens the door for a troubled neighbour to connect with a supportive neighbour and benefit from human connection.
Poverty Reduction: People in poverty need often complex services, many of which can be provided through kindness and generosity of neighbours. When people know their neighbours, they are more likely to share resources (yard equipment, car shares, babysitting, employment advice). In addition, neighbours are well positioned to be a "broker" or to connect neighbours in need of necessary services.
If you're interested in learning more, check out our list of benefits HERE. This list is not exhaustive. There are many more benefits of neighbouring!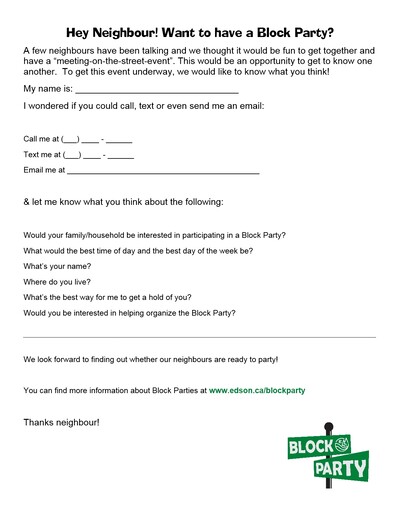 Want to figure out if your neighbours are interested in having a Block Party? You can use this questionnaire and stick it to your neighbours doors to find out! Be sure to leave your contact information so they can get back to you with a response.
If you don't have a printer and you'd like a few copies to give out in your neighbourhood, come by the Community Services department at the Town office!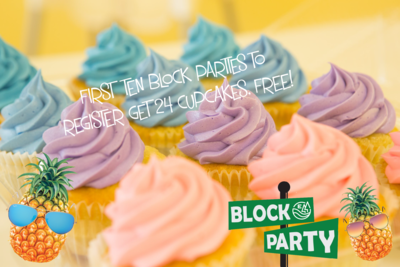 Block Party Rebate
A maximum rebate of $200.00 is available from the Town of Edson, Community Services Department towards eligible expenses for a registered Block Party. Eligible expenses shall include, but are not limited to, food, non-alcoholic beverages and entertainment. It is at the discretion of the Director of Community Services (or his/her designate) which expenses shall be deemed eligible. A maximum of five registered block parties per year may receive the rebate.
For further information, please read the Community Block Party Policy below:
The first 10 Block Parties will receive 24 FREE cupcakes towards their party, and can still submit receipts for up to $200 in eligible rebates.  It's never been more simple to become the coolest neighbour on your block.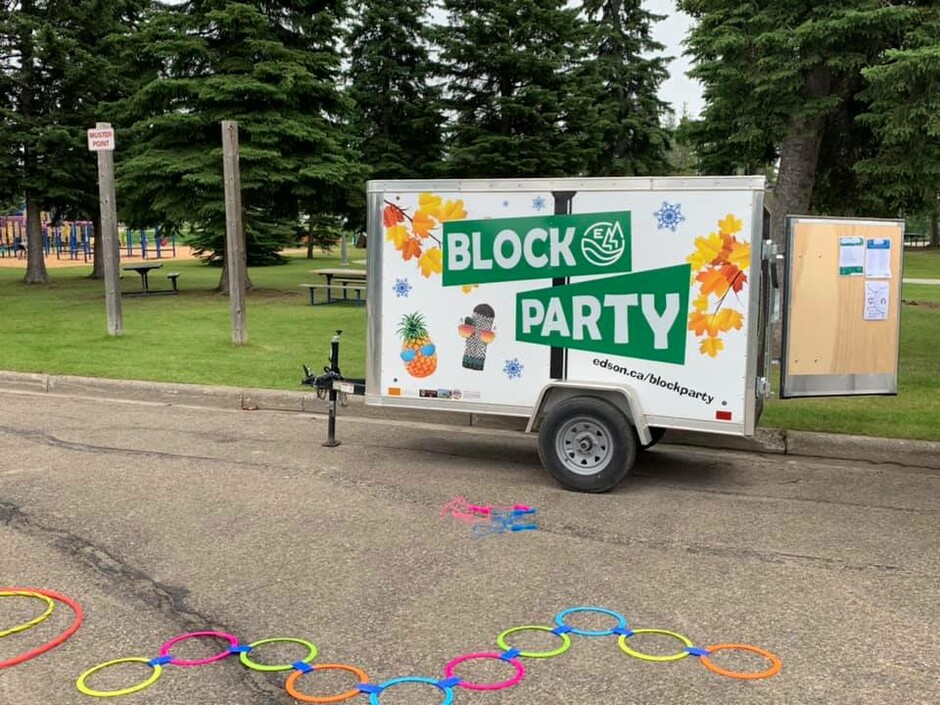 The Block Party Trailer is available to borrow for all registered Block Parties if it is not already in use. Be sure to mark off your Block Party Trailer request on the Block Party Application form.
The Block Party is a Community Development initiative, connecting neighbourhoods, a partnership between the Town of Edson Community Services and FCSS, A Healthier Edson (Alberta Health Services), Victim Services, the RCMP and Citizens on Patrol.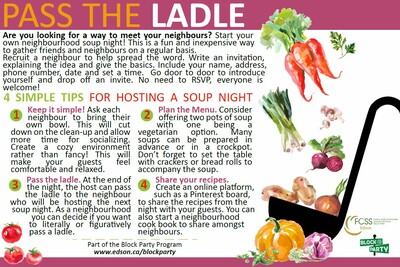 Host a soup night! A small social gathering with neighbours, sharing recipes and eating yummy soups. These events don't take much to plan and they offer an opportunity to connect with the families in our neighbourhoods. Start with a group of 3 or 4 neighbours and slowly build your "Pass the Ladle" group within your neighbourhood. Think about how easy suppers will be when you have neighbours taking turns creating and sharing delicious soups.  Of course, feel free to make variations of dishes such as chili, casseroles and stews. 
Rebates are available as they are through the Block Party program. Keep your receipts and submit them along with a success story. We will rebate the host of your soup night! Recipe cards like these are available at the Town of Edson Community Services office.  The blank recipe card on the back can be used to jot down the recipe of the night or for you to share a recipe of your own with neighbours.
5 Simple Steps to planning a soup night:
1. Invite your neighbours! A simple where, when, what and bring your own spoon and bowl will do!
2. Set the table.
3. Serve the soup and have a great time together.
4. Plan for the next soup night!
5. Submit your receipts and success story to the Community Services office.
Here are some yummy recipe ideas to get you started:
5-Ingredient Broccoli Cheese Soup
Other Ideas to Enhance your Block Party:
Try a Scavenger Hunt:
Complete this Neighbourhood Scavenger Hunt at your Block Party, or check out links below for other activity ideas that you can prepare for your upcoming Block Party!