Diversity Project Production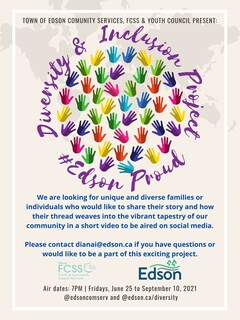 We dream of building a community where everyone is respected and valued for their differences.  It is only then that we are truly free.
We are looking for unique and diverse families or individuals who would like to share their story and how their thread weaves into the vibrant tapestry of our community in a short video to be aired on social media.
Please email Diana at dianai@edson.ca or call her at 780-723-8107 if you have any questions or would like to be a part of this exciting project.