Cultural Diversity Calendar
Each culture celebrates unique annual observances and we would like to help share those holidays in an effort to celebrate our differences, share our cultural pride, and better understand one another. Some examples could be Ramadan, Chinese Lantern Festival, Dharma, Eastern Christian Christmas and Epiphany, St. Patrick's Day, Holi, Passover, Cinco De Mayo, Dharma Day, Diwali, Chanukah.
If you would like to share how your culture celebrates it's holidays, please contact dianai@edson.ca.
We hope to create an informational video post on at least one observance per month.  We will design to fit your comfort level.
Diversity Project Production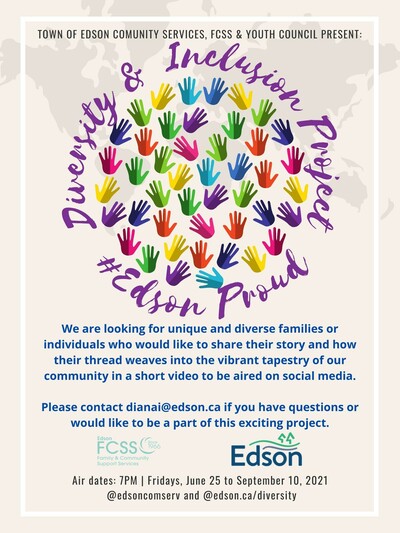 We dream of building a community where everyone is respected and valued for their differences.  It is only then that we are truly free.
Join us in celebrating the diverse families or individuals who have graciously shared their story and how their thread weaves into the vibrant tapestry of our community.
Video 1 - Meet the Schalm Family
Meet The Schalm family - a beautiful thread in the diverse and colourful tapestry of our community.  Thank you so much to each of you for sharing your story.
Video 2 - Meet the Davi-Digui Family
Today we celebrate the Davi-Digui family in our Diversity & Inclusion Video project. Thank you so much to Georges, Krista O'Reilly Davi-Digui and Ella for sharing your story and message in such an articulate way. We are proud of the compassion you give to your communities. As a note, the Davi-Digui family has set up a scholarship in Jaruis's name. If you're interested in learning more, please visit https://www.alifeinprogress.ca/art-scholarship/?fbclid=IwAR01-SuS5ooKxxc_A5Nd2O0QZC19MVY0GZ0qTbiESVo-fNWRLo_cYwN3Icc.
Video 3 - Meet the Giovos Family
Meet Katerina and Georgia Giovos. They are a beautiful mother-daughter duo who add so much to our community. 
You can find the link to the youtube video here.
Video 4- Meet Bronson Masse
Meet Bronson Masse. She is a young female entrepreneur in an industry not stereotypically populated by women. 
You can find her video here.
Video 5 - Meet the Kazakoff Family
Jill, Jason, Madi, and Ali are a great family with challenges they have done their very best to deal with while supporting other families and each other. We are proud to have them as part of our community.
Click here to watch their video.
Video 6 - Meet Val Findlay
Meet Metis Elder and pillar in our community, Val Findlay. Val worked at the Edson Friendship Centre for 35 years and was Executive Director for 25 of those. Since retiring, she has become a Metis Elder. Thank you, Val for all that you do and have done for our community.
Video 7- Meet Anne Auriat
Meet Anne Auriat, a compassionate community oriented Edsonite. Anne has been involved in many fulfilling projects, from the Edson Recycle Depot and the Community Gardens to youth sports, that have helped make Edson the beautiful place it is today.
Video 8 - Meet John Myslicki
John is a long-time resident of our community. He's an inspiration in kindness and service having been a teacher, volunteer firefighter, world traveler, spiritual guide, writer, and friend.
Video 9 - Meet Raul Gurdian
We would like to introduce you to Raul Gurdian, local entrepreneur, philanthropist, public speaker (Pastor), Rotarian, Victim Services volunteer, and dad. He was born in Nicaragua and grew up during the unrestful time of the Nicaraguan Revolution there.  He and his family moved to Alberta in his teens - not able to speak much English. We are proud to have Raul call Edson home.
Click HERE to watch Raul's video.
Video 10 - Meet Henry King
Henry King is a long-time and well-known resident in Edson.  He's one of the friendliest and funniest people to meet on the street.  Thanks for being you, Henry! You add so much to the diversity of our community. 
To watch Henry's video, please click here.
Video 11 - Meet the Pettie Family
Meet Francesca, Melody and Walter.  They are a beautiful family who is facing their challenges with intention, love and determination. Though Francesca has lived in many places, she's chosen to settle here because of the support that our community has to offer her. She works 2 jobs, home schools Walter and is studying to become an Educational Assistant. 
Video 12 - Meet Spencer Richard
Meet Spencer Richard AKA Srvent - Rap artist, husband and dad, videographer/editor, podcast host, Arts on Fire 'Artist for the Arts' 2021 recipient, and genuine, community-minded soul.  Spencer has been the man behind the camera for this Diversity & Inclusion Video Project and, being diverse in his own right, has shed an insightful light on the project.
Finale Video - Wrap up and "The Making Of" the Diversity & Inclusion Project
We are proud to have brought you the Diversity & Inclusion Video Project and highlight many of the wonderful people that make our community strong and vibrant.