Welcome to the Edson and District Leisure Centre! (Formally Repsol Place)

*This facility is currently undergoing a name change and there may be some discrepancies while the change is underway. 
Information for Pool & Arena Schedules are continually updated on our Website & Facebook Page. Please refer to these pages for accurate information for changes/cancellations in our scheduling.
Pool Information: 
Lockers are available in the pool, however we do not sell or provide locks. Please feel free to bring your own lock for drop in swim programs. 
Swim diapers are available for sale at Guest Services. $2.00 each. 
Arena Information: 
For your safety helmets must be worn by all patrons. This includes all activities such as Public Skating, Family Skating, Shinny & Hockey. 
Forms of payment accepted: Debit/Cash 
Holiday Closures 2022/2023: 
Remembrance Day Friday November 11th 
Christmas Eve Saturday December 24th
Christmas Day Sunday December 25th
Boxing Day Monday December 26th 
New Year's Day Sunday January 1st 
Pool & Arena schedules are listed below
Amenities
The Edson and District Leisure Centre features twin arenas, an indoor swimming pool and a hospitality room.
Arenas

** New to the schedule: Shinny Wednesday evening 8:15pm - 9:15pm**
Please note we there will be no Shinny or Public Skating on the following dates:
Friday January 27th - Shinny Cancelled
Special Event- Skate with Santa on December 18th from 3:00-6:00 pm, check out the details
HERE
For information regarding arena schedules or rentals please call 780-723-7665 or email
Rose Cesario
Swimming Pool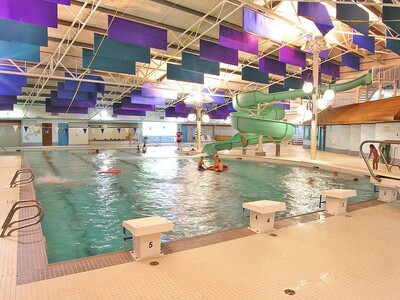 The facility is closed December 24th, 25th, 26th & January 1st
Please note our hot tub is out of service until further notice. 
The pool schedule is subject to change. Please call Guest Services for most up to date information. 780-723-7665 Ext. 1
Please note: We do not sell or provide locks. We encourage patrons to bring their own. 
Select memberships are now available for purchase online. Please refer to the Program Registrations ActiveNet link on our website. 
For pool inquiries please email Katie Barnes
Courses and Lessons
Swim for Life Swimming Lessons
We have a subsidy program for low income Town of Edson or Yellowhead County Residents to help cover the cost of swimming lessons and other programs. Households can apply for up to $450 that can be used for Community Services programming. 
How to apply?
1. Visit https://www.edson.ca/residents/community-development/leisureassist 
2. If you are eligible, fill it out.
3. Save it.
4. Email the application form & a copy of the required documentation to krystas@edson.ca or drop off at the Town Office in the night deposit slot with "Attention Krysta" written on it.
Winter Swimming Lessons 2023: Registration is December 14th at 6PM.  Online or in person at the Leisure Centre.   Please ensure swimmer's are being registered in the correct level. 
What Level Should I Register My Swimmer In?
Swimming Lesson Transition Chart- See this document for the transitions to the new lesson formats
Progression Chart - Preschool Program
Progression Chart - Swimmer Program
If the level you need is full please add swimmers name to the waiting list. 
Fall swimming lesson registration opens Wednesday, October 26th at 6pm online at
www.edson.ca
and in person at the Leisure Centre.
We recognize that the lessons are very popular and it can be hard to get in to the one you want. Here are some tips to help:
• If you have questions about lessons the best person to ask is
Katie Barnes
, our Aquatics Supervisor. 
• You will need an account set up on activenet in order to register.
• Register in person at our guest services desk.
• If you have internet access, we recommend online registration. If you do not, the library has computers that anyone can use for free, and they are open until 8 pm on Wednesday.
Other important notes about lessons:
• Classes will not be rescheduled in the event of a pool closure.
• Lesson sessions will close for registration 1 week prior to start date. Levels that are less than half capacity will be cancelled and replaced with other levels that have waiting lists or private lessons times.
• All swimmers registered in levels must have passed the previous level. Swimmers that are registered in advanced lessons will be removed and a credit applied to the swimmers Active Net account. Electronic Funds Transfers because of these registrations will have a $10 administration fee.
Private swimming lessons open for registration on the last Wednesday of each month at 6:00pm. November 30th & December 29th
Private Swimming Lesson Information
Based on the internationally recognized Swim to Survive standard, the Lifesaving Society Swim for Life Program focuses on basic survival skills and good swimming skills – fun from day one! Swim for Life starts by developing strong foundational skills and personal self-rescue skills, then continues on by challenging swimmers to develop strong swimming strokes. Success oriented and fun for the entire family, there is something for everyone in the Swim for Life program.
Other Resources
Lifeguard Courses 2022
Dates listed HERE 
Contact Us
Address: 1021 - 49 Street
Mail: P.O. Box 6300, Edson, AB T7E 1A0
Phone: 1-780-723-7665
Extension #1 - Reception
Extension #2 - Aquatics Supervisor Katie Barnes
Extension #3 - Scheduling Clerk Rose Cesario
Extension #4- Recreation Manager Krysta Hawboldt