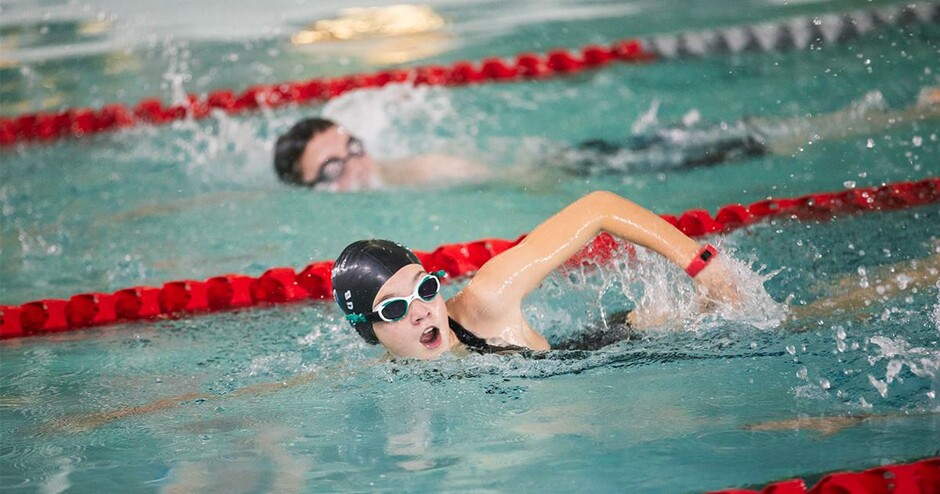 The Town of Edson and Yellowhead County are embarking on a historic joint project.
Following many years of public input and facility studies, our communities have come together to start work on a new Multi-Use Recreational Facility.  The facility is planned to  include 2 NHL sized ice surfaces, a 4 sheet curling rink, court space, running track, fitness area, and a new pool area with a lazy river.
After initial plans for the Hillendale site came in over budget, the project team was tasked with looking at alternatives which can achieve similar results, but within the approved $70 million budget.
**Update Dec 14, 2022
On December 13, 2022, the Town and County selected a preferred concept to continue to develop and move forward with.  This design proposes a new aquatic centre, one new ice surface (arena), while renovating the existing Centennial Arena for ice hockey and other sports, and Memorial Arena to a curling rink facility.  The concept also envisions a new gym space, walking track and major renovations to the lobby, common areas and parking areas. This concept also allows construction to proceed with minimal disruption of aquatics and ice arena programming, while the new construction is completed. Both Councils additionally directed administration to further investigate costing options for a second ice arena.
The Town of Edson and Yellowhead County continue to pursue the Federal and Provincial grants needed to make this concept a reality, and to further develop the concept to allow the municipalities to secure a builder in the spring of 2023.
Recent Releases and Information
**All items below could be adjusted depending on the next steps decided for the project.
Site Selection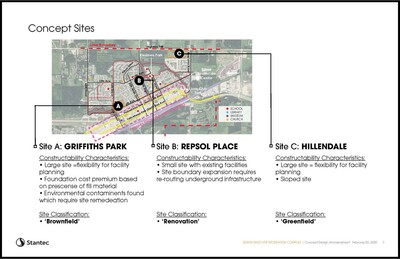 Previously, the Hillendale site was chosen as the location for this project. However, proposals came in substantially over budget and a consultant has now been selected to conduct a condition assessment for major building components and complete a conceptual design and cost estimate for the current site at the Edson and District Leisure Centre (formally Repsol Place).
A condition assessment on the current facility has been completed by Dialog and presented to the Steering Committee. The report can be viewed below and more information from the Steering Committee will be released this week.
Updated Tax Impact Estimate
The Town of Edson Council and Administration remain committed to minimizing the tax impact of the joint Multi-Use Facility project. During September 10th Committee of the Whole meeting, Edson Town Council received an update on those efforts.
The initial tax impact numbers were based on the highest operational cost estimates and largest amount of capital needing to be borrowed. With further review of actual operational costs of similar facilities, and by adjusting the capital funding plan, it's expected that the tax impact will be substantially less than the original estimate. Some of the changes to the calculation are as follows:
Operational Deficit projections from $3.5 million to $2 million - Further research into similar facilities showed operational deficits of less than $2 million.
Borrowing $9 million, down from the original $15 million. This was accomplished by planning to use more savings from the Revenue Sharing Agreement with Yellowhead County over a longer period of time, as well as the substantial grant money from the Federal and Provincial Governments.
Calculations now reflect the current lower interest rates.
*Every $1 million needing to be borrowed adds an average of $15 to the tax implications for a home assessed at $350,000.
Overall, this means the potential tax impact for Town of Edson residents is estimated at about $150 per year for an average residential or business property with an assessment of $350,000. 
This does not mean the work is over. Both partners will continue efforts to seek out grant and sponsorship opportunities, which could bring that impact down even further.
Tax Comparisons
Results of the Regional Multi-Use Recreation Facility Survey have been released. Along with the support breakdown for the project, the survey revealed a perception that taxes in Edson are high compared to other municipalities. Research has shown this is not the case. In fact, when taking taxes and municipal utilities into account, Edson is well below average for similar communities. See the comparison chart below.
Average Annual Municipal Cost Comparisons
Average Annual Municipal Cost Comparisons (With Multi-Use Facility)
Tax and utility rate comparisons are done annually to ensure the Town of Edson is competitive with our area municipalities.
Projected Cost Breakdown
The capital cost of this project is being cost-shared 50-50 between the Town of Edson and Yellowhead County.
$20 million of this project is being funded through a Federal Infrastructure Canada Grant.
The remaining $50 million of this proposed $70 million project will come from a combination of Provincial Municipal Sustainability Initiative (MSI) grant money and municipal funding (approx. $25 million Yellowhead County and County MSI grants / approx. $25 million Town of Edson and Edson MSI funding).
The operational split will be 60-40 Town-County based on an operational agreement being drafted.
Tax impact estimates have been revised as Council and Administration continue to work on lowering costs to residents. Original estimates were based on "worst case" situations for both capital financing and operational deficits. This has been updated by revising the capital plan and getting more realistic numbers for operations based on similar facilities.
With this in mind, The Town of Edson plans to use a combination of $26-million in savings and $9-million in borrowed money to cover our portion of the construction costs. This means Edson residents and business owners can expect to see an increase in taxes to cover the cost of the borrowed funds and anticipated operational expenses.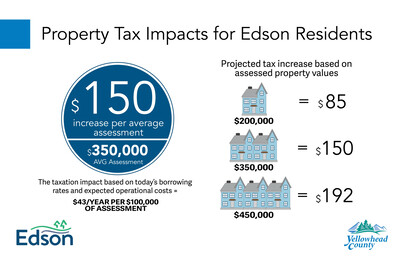 Based on today's interest rates and expected operational costs, Edson taxpayers will see an estimated $42.70 increase in taxes yearly per $100,000 in assessment.
For an average household of $350,000 it would equate an approximate increase of $150 per year…about $12.50 a month.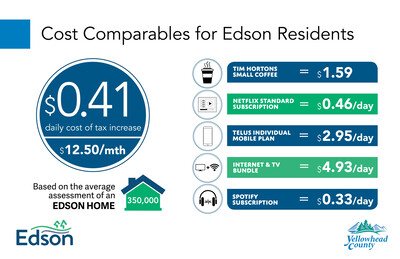 To break it down even further, for about $0.41 per day, Edson will gain a first-class recreational facility that will fit the needs of our community for decades to come.
Check out our online calculator below (Town Residents and Businesses ONLY) to get your own personalized estimate based on your property assessment.
*Note. This Calculator uses 2019 millrates and a higher interest rate than is expected.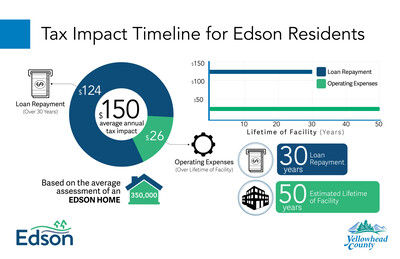 The estimated tax impact calculations include both capital borrowing costs as well as operational cost estimates.
The operational impact, about $26 per year for the average $350,000 in assessment, would be ongoing for the life of the facility.
The capital tax impact, about $124 per year for the average $350,000 in assessment, would last for the 30 year borrowing term.
Tax Impact Calculator
Edson residents and businesses ONLY
2006 – 2007 – "Conrad Report" – Detailed facility study and public consultation conducted by Paul Conrad and Associates indicate a multi-use complex is a priority for a majority of the public in and around Edson.
Spring 2017 - Public Engagement began for the joint Edson and Area Community Services Strategic Plan. The report was to focus on
Parks and Recreation
Arts and Culture
Museums and Archives
Library Services
Surveys were conducted and Open Houses held, as well as a real focus at the Trade Show that year.  Nearly 800 households participated.
September 2017 – Edson and Area Community Services Strategic Plan Final report complete (Volume 1 / Volume 2)

Some key findings
The community is at a key decision point: The municipalities find themselves at a crossroads of opportunity – a time when existing facilities are at or are approaching end of life and will need replacing or refurbishing, when solid growth is expected in the region and population requirements will increase, and when renewed co-operation makes it possible to join resources and plans
And a Fundamental Choice: The choice is whether to invest in the maintenance of existing infrastructure or use this opportunity to think broadly and reframe the offerings for future generations.
Strong support for a new community complex: Citizens are remarkably aligned in their comments, both in defining need and determining the next step.  There is strong support for a new multi-purpose community centre and a recognition that there will be a need to develop and implement a reasonable funding strategy involving multiple partners
Recommendations have been developed to deal with four areas:
A multi-purpose community centre;
Consolidation of existing facilities;
Changes in programming; and
Joint management of future facilities and programs
April 2018 - Memorandum of Understanding reached between Town of Edson and Yellowhead County for the construction of a new facility.
The agreement
A 50‐50 cost share in the capital costs of a new facility,
A 60‐40 Town‐County split in operational costs,
Each partner will have an equal say in operations, and
An operational agreement to be drafted as the process moves forward.
October 2018 – Edson and YC Council's award tender for architectural services for the Multi-Use Facility to Stantec Architecture of Edmonton.
The amenities that are included for consideration in this project are:
Two standard ice rinks with boards
Aquatics facility - minimum 6 lane/25-meter pool, child pool, lazy river, waterslide, hot tub, and sauna/steam room
4 sheet curling surface
Gymnasium - multi-sport court – basketball, volleyball, indoor soccer, pickleball etc.
Walking track and a fitness area - studio room(s), area for weights and equipment etc.
Adequate storage to support each service area
Basic skate sharpening/pro shop and food service provision areas
The additional features that may be considered for including as part of the facility are a:
Climbing wall
Indoor playground
Multi-use rooms/meeting spaces
Seating capacity in the aquatics facility (preferably mobile/temporary)
FCSS Parent Link Centre
Leisure skating pond
Lease space-additional food service – e.g. Booster Juice, Tim Horton's, Dairy Queen, restaurant/lounge, etc.
Lease space - private paramedical services (i.e. physiotherapy, chiropractic, etc.), Boy & Girls Club, Primary Care Network
Teen drop-in area
February 2019 – The joint Town of Edson and Yellowhead County Steering Committee agreed to the project scope, location, timeline, and cost of the proposed Multi-Use Recreation Complex to be constructed in Edson, at Griffiths Park. The chosen location will be ideal for future expansion and parking considerations.
The project is estimated to cost $70 million. After a thorough review process, the facility's detailed design is planned to commence in late 2019 and construction anticipated to commence in 2022.
The Steering Committee is confident that the timelines set out for this project will allow our communities to gauge and plan fiscally—so that this exciting new initiative can be accommodated with limited tax implications.
April 2019 – The Steering Committee announced the commencement of a detailed geotechnical review of the Griffiths Park site, as well as some public information sessions. Edson Trade Show – April 26-27 and an Open House at the Galloway Station Museum May 9th.

June/July 2019 - RC Strategies conducted a Regional Multi-Use Recreation Facility Survey to gather input on the project, as well as support based on the anticipated tax implications. The survey was sent out to all Town of Edson tax rolls.
August 2019 - Edson Town Council reviewed the Multi-Use Facility Survey results. In total 716 responses were gathered from the 3,106 postcards that were sent out. This represents a response rate of approximately 23%.

2019 Multi-Use Facility Survey Report
September 2019 - Updated tax implication numbers were presented to Council based on an adjusted capital plan and more realistic operational cost estimates. Original operational estimates were found to be quite high when compared to actual data obtained from other similar facilities.
Communications plans surrounding the project were also presented to Council at the September 10th Committee of the Whole meeting.
January 2020 - Detailed geotechnical studies at Griffiths Park site indicate increased development costs of the Griffiths Park location. With the increased costs at that site, the steering committee felt that a new review of all reasonable options was necessary.
February 2020 - The Town of Edson and Yellowhead County Councils have selected a new site for the Multi-Use Recreation Facility Project. Both Councils confirmed a site north of the Hillendale subdivision as the official location for the new project moving forward.
December 2020 - Turnbull Construction Project Managers was awarded the Recreation Facility Project Management Contract.
March 2021 - Request for Expressions of Interest (RFEOI) was posted for Design Build Contractors
May 2021 - The Town and County narrowed the Design Build Contractor list to three proponent teams: Clark Builders & TBD Architecture + Urban Planning, EllisDon & Stantec + HCMA, and PCL & GEC Architecture.
April 2022 - Both the Town of Edson and Yellowhead County rejected the 2 proposals brought forth due to budget concerns. The Steering Committee will meet to discuss next steps to move the project forward.
June 2022 - Proposals were received to evaluate the possibility of revamping the existing Edson and District Leisure Centre to see how it could be upgraded and worked into the community needs and program requirements. A consultant will now conduct a condition assessment for major building components and complete a conceptual design and cost estimate. The updated plan is expected to be complete by December 2022
Why not just build on the current site?
A full condition assessment and conceptual design is now being developed looking at the current site. Initially, with the scope of the project, space was an issue. As was the need to build in phases with potential disruptions to service during construction. These are considerations as we review the project now.
Will there be more public feedback opportunities?
Much of the public input for this project was completed in 2017 with the Edson and Area Community Services Strategic Plan. At that time, user groups were consulted and nearly 800 households (representing approximately 2686 people) from across Edson and Yellowhead County provided feedback to help us shape the core of this Multi-Use Facility design. More information on the study can be found in the History section above.
We will continue to share information on the project as it progresses.
Why is there such a long timeline before construction starts?
The timeline has shifted with the recent bids coming in over budget. The study on the current location and conceptual designs is expected to be complete in December 2022. 
Contact Information / Steering Committee
To contact the Steering Committee please forward any correspondence to the respective Chief Administrative Officers Luc Mercier (County) or Christine Beveridge (Town). The information will then be provided to the Steering Committee for review.
The following is a list of Steering Committee members for the project.
Wade Williams (County)
Anthony Giezen (County)
Dawn Mitchell (County)
Luc Mercier (County CAO - Advisory)
Kevin Zahara (Town)
Krystal Baier (Town)
Greg Pasychny (Town)
Christine Beveridge (Town CAO -Advisory)