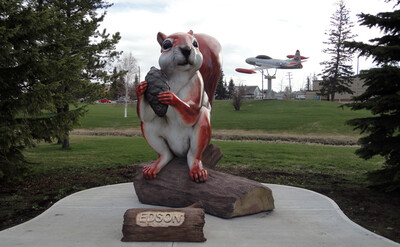 Located between 54th and 55th Streets along the Yellowhead Highway, RCMP Centennial Park features the Galloway Station Museum and Travel Centre, Chamber office, an outdoor Pavilion, a giant water fountain, a mounted Lockheed T33 jet, a 1907 CN Caboose, and of course Eddie the Squirrel!
This beautiful park is set on Bench Creek and is one of the most recognized and used parks in Edson. Over the summer the park plays host to many special events, picnics, concerts, weddings and family activities.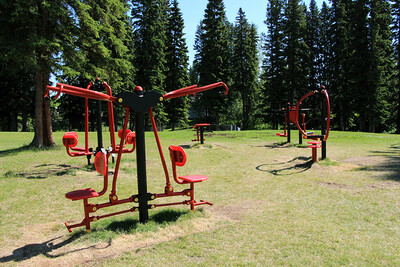 Outdoor exercise equipment has been installed at Kinsmen Park and on some trail heads. This new fitness equipment is free to use and great for parents that want to get in a quick workout while the kids play in the park, for those that want to step up their workouts while on the trail system, and for people that just want to enjoy the sunshine while exercising.
All the pieces were installed with these thoughts in mind:
privacy vs. feeling of safety
site lines to parks (for parents to exercise while their children play)
people without kids still feel comfortable to use the equipment because it is a fair distance from the park
This equipment was purchased through a grant by THRIVE on Wellness. THRIVE on Wellness is a provincial initiative that focuses on the promotion of health and prevention of cancer in Alberta. Edson became the recipient of a $20,000 grant from this organization to use towards cancer prevention in the form of free spontaneous recreational opportunities. Using the distributor Fitness Outdoors we picked pieces of equipment that would be useful for a wide population of people of all abilities (cardio, strength and stretching pieces).
Notes: This equipment is designed for ages 14+. It is not designed for younger children.
Please use the park in a respectful and responsible manner.
Use it at your own risk
Check out these sample workouts!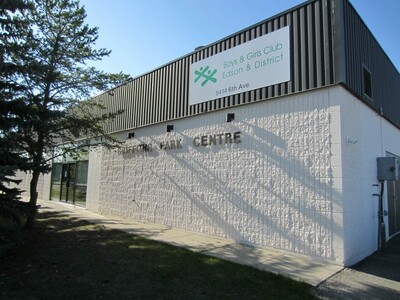 Located off 56th street and 5th Avenue Griffiths Park is a set up for sports and family fun! There are 2 Basketball Courts, Ball Diamonds, an Outdoor Rink.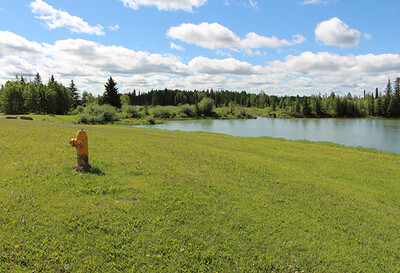 The Town of Edson has two (2) off leash Dog Parks ready for our canine friends.
The first park is located south of the railway tracks on the west side of 54th Street South and is fenced on three sides with a pond on the other side.
The second park is located on 6th Avenue in Griffith park (around 54th Street). Ball diamond #5 has been converted to an off leash park as a more central location for dogs and their owners to enjoy.
Dog owners are reminded that it's their responsibility to clean up after their pet and that use of the park is at their own risk. The rules are posted and waste bags available to help keep the park clean and enjoyable for everyone.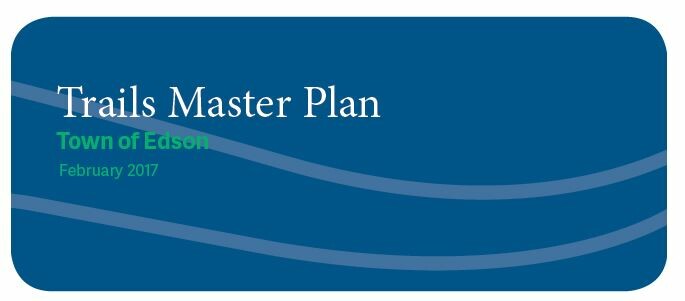 Edson Town Council has adopted the Trails Master Plan and administration is now formulating a plan for implementation.  The plan assesses current pedestrian infrastructure (with a primary emphasis placed on the Trails system) and establishes measures by which it can be improved in the short and long terms. The goal of the plan is to help ensure easy and efficient pedestrian access to key businesses and public spaces throughout the Town.
Please stay on marked trails. Follow the signage and watch for a new update to the Edson Mobile App that will help guide you.
Be aware of your surroundings. Keep an eye out for local wildlife.
Have a mobile device for emergency situations.
Edson trails are pet friendly. Please keep all pets on a leash and be sure to clean up anything left behind.
Please place garbage in receptacles provided.
Do not disturb plants or wildlife.
Respect the privacy of neighbouring residents.
Motorized vehicles are not allowed on any trail.
The Town of Edson will be working closely with the Edson RCMP to patrol area trails. Protective Services will be conducting regular bike patrols to educate and enforce bylaws, as well as to maintain a presence and monitor activities in the areas not easily accessible by motorized vehicles.
If you have any parks and trail related questions please contact Community Services at 780-723-4403.
For bylaw related questions call Protective Services at 780-723-3178.
If you notice suspicious activity in the trails, please contact the Edson RCMP.