Hangar Rental Update
The Hanger at Vision Park is currently unavailable for rentals due to adjacent construction. Construction is scheduled to be completed shortly but no date has been confirmed. As soon as construction is completed the public will be notified and rentals will become available.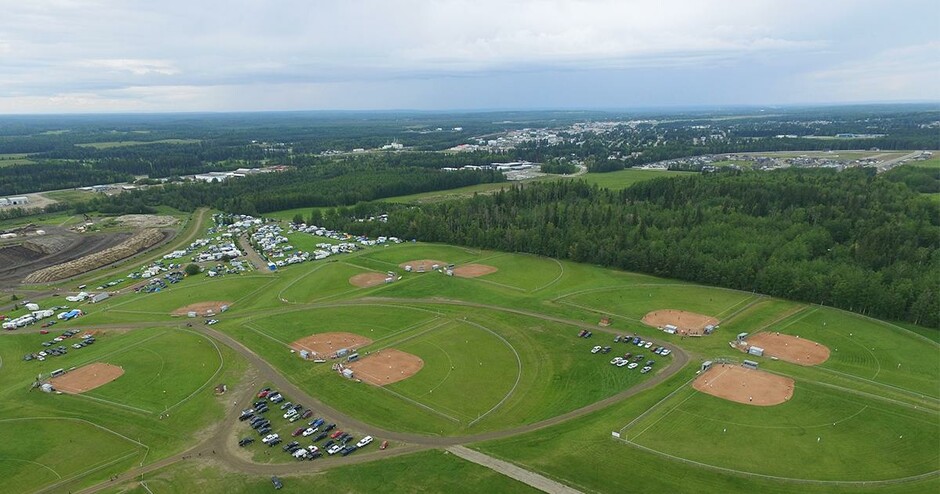 As of 2017 it is maintained and operated by The Town of Edson and hosts multiple tournaments throughout the year for all ages! 
Redevelopment Project
The project will include rebuilding 5 diamonds at the northeast end of Vision Park, which includes:
Landscaping to improve drainage in the lower areas of Vision Park.
Construction of two 300-foot diamonds suitable for Slo-Pitch and Baseball.
Rebuilding of three diamonds to level the landscape, improve drainage, and upgrade fencing.
Once this work is complete, Vision Park will have 16 operational diamonds, which more than accommodates the needs of Edson Mixed Slo-Pitch and Edson Minor Ball. A park of this size will also attract ball tournaments to the community.
Budget - $1,922,240
Timeline - Work started on September 19, 2022 and is anticipated to continue until August 2023. Grass seed takes a minimum of two full years to grow and establish itself so we anticipate the new ball diamonds will not be operational until the spring 2025.

Tournament Central Construction
Project is to install a new water treatment plant (WTP) and public use facility at Vision Park.
In 2020, the Town undertook facility design at Vision Park to make use of an existing licensed water well that requires treatment to meet potable water quality standards. The Vision Park Water Treatment Plant design includes a process area and a separated area with washrooms and meeting space for use by the public within the park.
Budget - $2,274,660
More details can be found in the agenda from the May 25th, 2021 Committee of the Whole Meeting and the June 1st, 2021 Council Meeting.