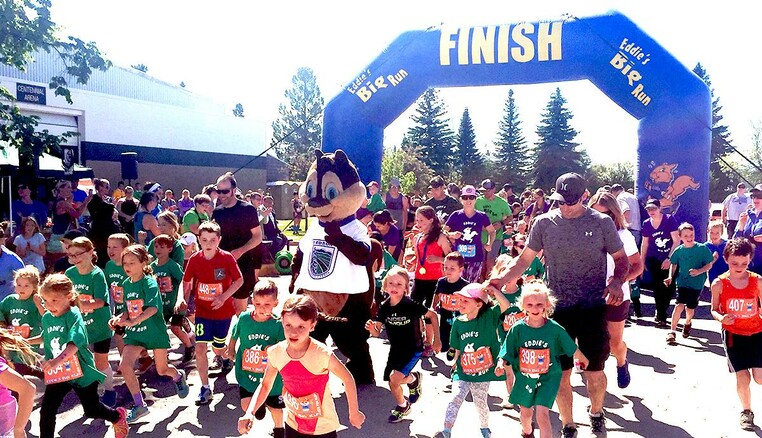 Eddie's Big Run was held on Saturday, June 22nd, 2019 this year. It was our 10th anniversary and we had a blast celebrating with everyone who came out! 
Thank you to RBC, TransCanada, Canadian Natural, ATB, Bannister GM, Branch Corner & Supply, Fortis Alberta, Jensen's, KSM, Ranger Oilfield, Real Country West, Sierra Fitness, Tim Horton's, Two Men and a Hammer, WSP, Canadian Tire, the Edson Chamber of Commerce, Diana's Pets and Trophies, Braund's Independent Grocer, Lakeview Inn & Suites, McDonalds, Power Fitness, Repsol Place, Sobeys, Subway, and Warehouse One for sponsoring our event. We also want to thank all of our volunteers and participants who made this year one to remember. Finally, we want to give a special thanks to the Eddie's Big Run committee for coordinating this run for the last ten years. Without all of you, we would not be able to create such an exciting event!
We still have swag leftover if anyone would like to purchase it.
Shirts $10
Water Bottles $5
Buffs $2
Get all three for $15 (save $2!) 
Limited sizes in shirts available, first come, first served. 
Call Krysta at 780-723-4403 if you would like to purchase items. Cash or cheque only. 
Check out the 2019 Eddie's Big Run photo Gallery here: https://lanakirtleyphotography.zenfolio.com/p797896652
Photos are available for purchase through this link to remove copyrights.
Next years date is June 20th, 2020!