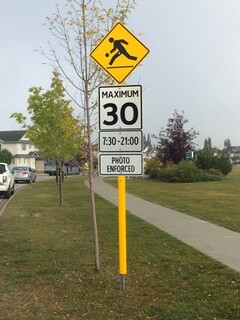 Some changes are coming to the school and playground zones in the Town of Edson.
Starting this summer, at a date TBD, all school zones will become playground zones across the Town of Edson. As well, all playground zone times will be adjusted to 7:30 am to 9:00 pm daily.
At their January 11th meeting, Council gave all three readings to Bylaw 2273, amending the Edson Traffic Bylaw. The amendment harmonizes all school and playground zones to playground zones only. The CAO has been authorized to designate these zones and a review was conducted to ensure the zones fit the current pedestrian traffic patterns. As mentioned above, the times for all playground zones within the Town of Edson will also be adjusted to 7:30 am to 9:00 pm daily.
This will go into effect during the summer months and signage will be adjusted at that time.
These adjustments come after a thorough review of all school and playground zones in 2020/2021. During the review it became evident that many zones were inconsistent and many school zones contained playgrounds that were used more than just during school hours.
It's hoped these changes will provide greater clarity and consistency to drivers and increase safety in potential hazard areas when school is not in session. This could include organized events and general use of playgrounds and sports fields after school hours. Safety is paramount, especially in the winter when the sun sets well before 5:00 pm. 
We are currently seeking feedback from the public on the proposed changes/zones, as well we'll be consulting with the RCMP, School Divisions, and other community groups. See the contact information at the bottom of the page.
The list of proposed changes can be viewed below.