Posted on November 19th, 2020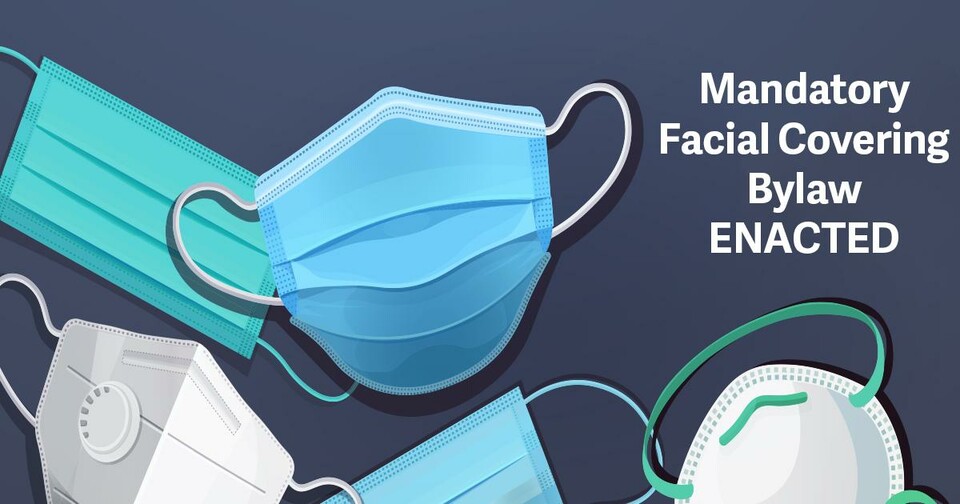 Edson Mandatory Facial Covering Bylaw NOW Enacted
The Town of Edson has enacted Bylaw 2250, the Mandatory Facial Covering Bylaw, effective November 18th, 2020. This bylaw requires the use of facial coverings for all individuals over the age of 2 in all indoor, or substantially enclosed Public Place or in any Public Transportation Vehicle. Other exemptions include:
persons under 2 years of age;
persons who are unable to place, use, or remove Face Coverings without assistance;
persons providing care or assistance to a person with a disability where a Face Covering would hinder that caregiving or assistance;
persons consuming food or drink in designated seating areas or as part of a religious or spiritual ceremony;
persons engaging in aquatic activities or physical exercise; or
persons engaging in services that require the temporary removal of a Face Covering.
The Emergency Coordination Centre, with the support of Council, have enacted this bylaw due to the rising COVID-19 case numbers in the region. This also falls in line with the Provincial request to help reduce risk in our communities in order to prevent overloading the healthcare system and to avoid further restrictions.
It should be noted that face coverings are only effective if used in combination with other health measures, such as regular hand washing, physical distancing, and reducing large gatherings.
While the intention of this bylaw is not punitive, those who refuse to follow the bylaw could be subject to a $100 fine for a first offence, and $200 for subsequent offences.
This bylaw will be in effect for a MINIMUM of 2 weeks and reviewed by the ECC based on the criteria of the bylaw, current risk levels in the region, and direction of the Provincial Government at the time.
Please note: While masking has been a polarizing issue, we ask that people are treated with kindness and consideration in true Edson community spirit both in the public and online.
For more information on the bylaw, visit www.edson.ca/bylaws.
More information on Edson's COVID-19 response, as well as posters available for businesses to download, can be found at www.edson.ca/covid. 
More information on the proper use of masks, visit https://www.alberta.ca/masks.aspx.
Mandatory Facial Covering Bylaw Question and Answer with CAO Derricott