Go Back to News Listing
National Day for Truth and Reconciliation
Posted on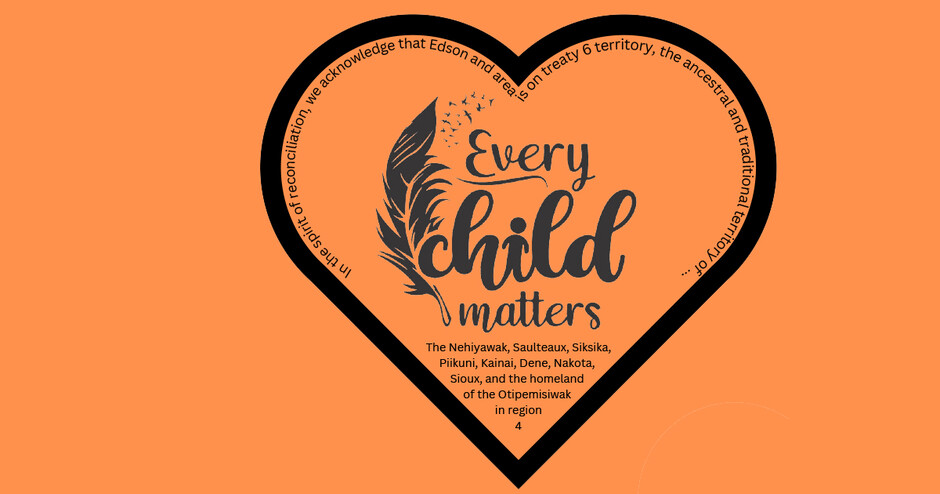 In 2021, the Government of Canada passed legislation to make September 30th a federal statutory holiday called the "National Day for Truth and Reconciliation". This day is meant to provide an opportunity for residents to recognize the somber legacy of residential schools and to honour the victims. This may present itself as a day of quiet reflection or participation in a community event.
The Town of Edson will recognize the National Day for Truth and Reconciliation and will allow employees to observe and participate in this important day. This includes the closure of all Edson facilities, including the landfill.
_____
"Residential schools operated in Canada for more than 160 years, with upwards of 150,000 children passing through their doors. Every province and territory, with the exception of Prince Edward Island, Newfoundland and New Brunswick, was home to the federally funded, church-run schools. The last school closed in Saskatchewan in 1996.
First Nations, Métis and Inuit children were removed, often against their will, from their families and communities and put into schools, where they were forced to abandon their traditions, cultural practices and languages. The residential school system was just one tool in a broader plan of "aggressive assimilation" and colonization of Indigenous Peoples and territories in Canada."
-excerpt from Canadian Geographic Indigenous Peoples Atlas of Canada
More information can be found at:
___
This day honours the children who were never returned home and survivors of residential schools, as well as their families and communities. Public commemoration of the tragic and painful history and ongoing impacts of residential schools is a vital component of the reconciliation process.
Please join us in this commemoration activity by cutting out or colouring an orange heart, placing it in your window, and wearing an orange shirt on September 30.
We honour the knowledge of this land, the elders and youth which gather here, and our ancestors who have gathered here for centuries.
To mark this day, The Edson Friendship Centre will be holding events on September 29-October 1. Events include Blanket Exercises, Lighting of a Memorial Fire, Community Lunch, Demonstrations, and more. See their Facebook page for details.
https://www.facebook.com/edsonfriendshipcentre