Posted on March 12th, 2013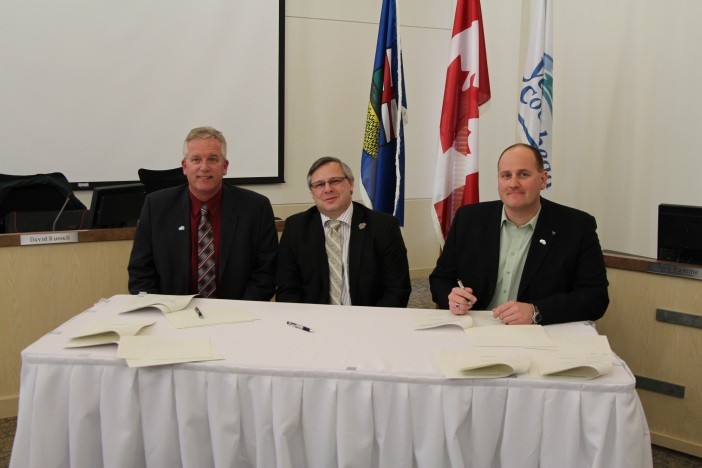 Revenue Sharing Agreement Signing
Edson, Alberta, March 12th, 2013 – The Town of Edson, Town of Hinton, and Yellowhead County officially signed a new Revenue Sharing Agreement today.
Over the course of the last year, Edson Town Council and Yellowhead County Council have been meeting to discuss the terms of a new deal which would best meet the needs and demands of the region. The new agreement sees a percentage of the non-residential tax revenues generated within a defined area of Yellowhead County shared with the Towns of Edson and Hinton. Based on the 2012 County non-residential assessment, the Town of Edson would receive a total of $4.1 million as its share commencing in 2014.
"This agreement is a great show of cooperation and understanding between the municipalities," said Edson Mayor Greg Pasychny. "Each municipality faces different challenges but this agreement shows what can be accomplished by working together. It will ensure the Town will stay sustainable heading into the future."
An updated Recreation and Culture Agreement, which aligns closely with the Revenue Sharing Agreement, was also signed between the municipalities today.