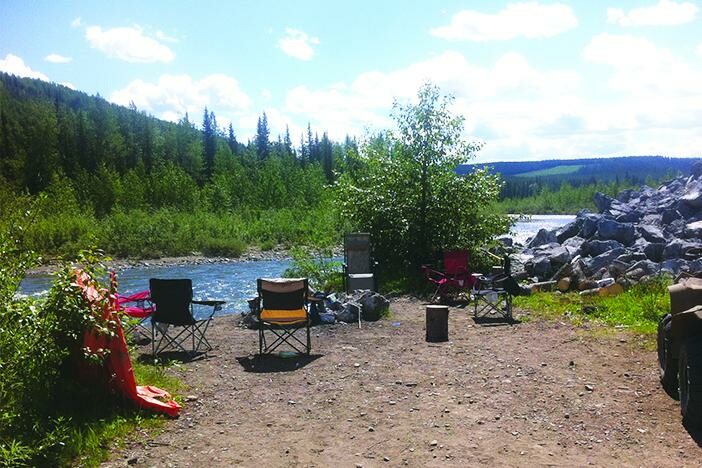 Sani Dump
The main sani-dump station is located on 1st Avenue between 56th and 57th street, west of the RCMP building. There is also a sani-dump station located at the main rest stop east of Edson. The Sani-dump is normally open mid April - Sept/October depending on the weather. Opening it too early or late could cause water pipes to freeze.

**The Edson Sani Dump will be closing Sunday October 30th for the season due to the overnight freezing temperatures.

Bear Lake Campground:
30 km North East of Edson, 2 km North on Sec. Highway 748
27 campsites, 6 pull- through and 4 tent sites, 8 day use sites, sandy beach, playground, boat launch and 2 boat docks, full-service concession, self registration.


8 km East of Edson on Highway #16.
Phone: 780-723-2287
Email: edson@pinnaclelifestyles.ca
Year-round resort with fully serviced lots for lease and nightly campsites. General Store, recreation room, laundry, showers, playground, mini-golf and aqua driving range, nature trails and more.
Edson RV & Campground:
Located on the Edson Golf Course (two hours West of Edmonton, Alta on Hwy #16 towards Jasper)
For reservations call 1-780-723-5116 or 1-877-723-7330.
Open May 1 to October, 60 large sites (48 fully serviced sites, 12 campsites) on treed setting, pull-thru sites, 30 and 50 amp services sites, tap water, flush toilet, free showers, handicap facilities, fire pits, free firewood, convenience store, playground, public telephone. Accepts Mastercard, Visa and Interac.


Fickle Lake Provincial Recreation Area:
Located approx. 20 km SW of Edson, access from Highway 47 (10km) to Fickle Lake Road.
Open May to mid-October, 44 sites, free firewood, boat launch, hiking trails, day use area, fishing.


Located in Edson, 217 - 42 Street; phone number: 1-780-723-3169
Open May to September, 27 stalls with power and 16 stalls without power, barbeque pits, wood, shelter for bad weather, playground area; washrooms with showers, register at Park Office.
https://edsonlionsparkcampground.com/
Long Lake Campground:
30 km East of Edson, 15 km North on Sec. Highway 748
14 campsites total, 4 tent sites, 2 day use sites, boat launch, self registration


Northwoods Acres:
53509 B Range Road 171 in Yellowhead County (directions - 4km north of Highway 16, 1km overpass secondary highway 748, 2km north on Range Road 171)
Year Round RV sites, 7 fully serviced and metered sites, 30 and 50 amps, private secluded county setting.
Daily, Weekly and Monthly rates.
Phone for appointment: 780-728-0413 or 780-723-0334


Shiningbank Cabins, B&B and R.V. has cabin facilities as well as R.V. sites with 30 amp power and grass tent areas. Located between 3 recreational lakes and borders crownland. Crew rates (day, week, month) and meals available. Full use of all amenities - showers, laundry, TV room, firepit/wood, BBQ/propane. 25 minutes NE of Edson on #748 East and Long Lake Road North (Rg Rd 152). Call 780-693-2403, fax 780-693-2413. Contact Valinda Lea Damberger vallea@telusplanet.net


Surprise Lake Camp is a United Church Summer camp located 20 km east of Edson on RR #153. We are members of the Alberta Camping Association and our camp recently celebrated its 60th Anniversary. Surprise Lake camp seeks to balance fun, spiritual growth and personal development within a context of close community and beautiful surroundings.
For more information contact: surpriselakecampab@gmail.com
*****************************************************************
*Managed by Rotary Club of Edson*
 Hello Campers!
Willmore Park Campground online reservations are now open. Campsites are available for booking May 16 - Oct 15, 2022.
Sites are $20/night
Park rules and policies are in the website/app below.
To make reservations from your desktop click https://www.campreservations.ca/campground/willmore-park-campground-2764
To make reservations from your phone, download the app
Reservations cannot be made by email or phone.
You can change and modify your reservations on the app. If you need help with the app please contact support@campreservations.ca or 587-331-6320. Their website also has great help tips www.campreservations.ca
Follow our page on Facebook https://www.facebook.com/willmorepark
Please note that the Edson Cycling Skills Park will be closed for maintenance June 6 - 10, 2022.
For more info check out their website http://www.edsoncycling.com/
Capture Camping Memories @ Willmore Park this Summer.
Escape into the great outdoors and enjoy all the beauty and serenity of nature outside your door. 
41 Campsites to choose from along the riverside or overflow.  Scenic views throughout the park and trails. New Caretaker offering free firewood and weekly specials.  Located just 6km South on 63rd Street from Edson Alberta.
Multi-purpose trail system for hikers or bikers with a sweet mix of terrain for all levels of experience to enjoy. Play area for children along with a green shack to borrow toys while playing in the park. 
Right alongside the McLeod River it has become a popular spot for not only campers but day use picnics, including birthday parties, wedding photos, tubing, kayaking, canoeing or just a dip to cool off on those hot summer days. 
Clean friendly atmosphere you are sure to enjoy, if you have any suggestions the caretakers are open to new and exciting ideas.