Moving to Edson
The Town of Edson is a tight-knit community located in the heart of Alberta's rolling woodlands. With just under 9,000 residents, we are a town focused on celebrating the local, proud of our pioneering history, supportive of our neighbours, and invested in the vibrancy of our local economy.
There are a number of reasons to choose Edson when looking to relocate or set up a new business. Here's a quick list of some of what makes the Town of Edson a great place to set up shop!
Strategically located midway between Jasper and Edmonton on the very busy TransCanada Yellowhead Highway.
High quality of life that provides opportunities for community involvement and a sense of belonging and understanding.
Quiet, friendly, safe community with a customer oriented civic government.
Outdoor and indoor recreation activities aplenty; such as an 18 hole golf course, curling, slo-pitch, spray park, hockey, swimming, tennis, soccer, skiing, hiking, fishing and boating. Close proximity to numerous campgrounds.
Growing retail and commercial sector that offers a variety of professional and customer oriented services.
Top-rated schools.
First class protective and emergency services, hospital and wide range of professional medical services.
Reasonable tax and utility rates.
Close to several tourism, arts and cultural attractions such as the Red Brick Arts Centre and Museum, the Galloway Station Museum, the Cardinal Divide, Cadomin Caves, Emerson Lake and the Hoodoos, Silver Summit Ski Hill, and Hornbeck Cross Country Ski Trails.
Our proximity to the beautiful McLeod River provides excellent opportunities for outdoor recreation.
Business Directory
Looking for a specific service or business? This directory includes all resident and non-resident businesses that are licenced to operate within Edson.
General Directory Inquiries
Have a suggestion, update or question? Please reach out to our Economic Development Team at ecdev@edson.ca and we will be more than happy to help!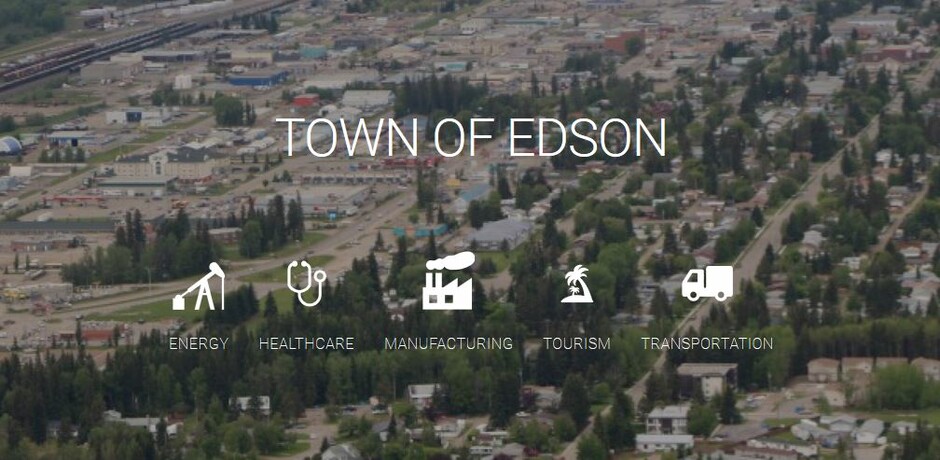 The Economic Profile provides a snapshot of Edson's current economic state. The data contained within has been provided to assist businesses and residents locate, utilize and share the most current information available about our region. The Economic Profile, powered by Townfolio, updates in real-time and as new data becomes available, the charts and graphs will update accordingly.
Please take a moment to browse Edson's information below or follow this link to go to Townfolio's Edson profile page.
Helping Keep Edson's Economy Strong & Resilient
Community Futures West Yellowhead (CFWY) in conjunction with the Municipality of Jasper, the hamlet of Grande Cache, Town of Hinton and the Town of Edson launched a regional Business Retention & Expansion (BR + E) survey to understand how to best support local businesses. To that end, a Triage BR&E Survey was commissioned to engage the broader business community, while also allowing for the identification of potential expansion or retention opportunities for follow up on a business by business basis.
Below are a few Key Findings of the Survey:
That the majority of businesses in Edson are locally owned and operated, with a staggering 88% of business owners indicating so.
That 46% of the businesses in Edson have been operational for more than 10 years.
That 54% of our business owners own their business property, with 46% renting/leasing their properties.
Please find the survey results below:
For more information, contact ecdev@edson.ca or call our Economic Development Officer at 780-723-4402